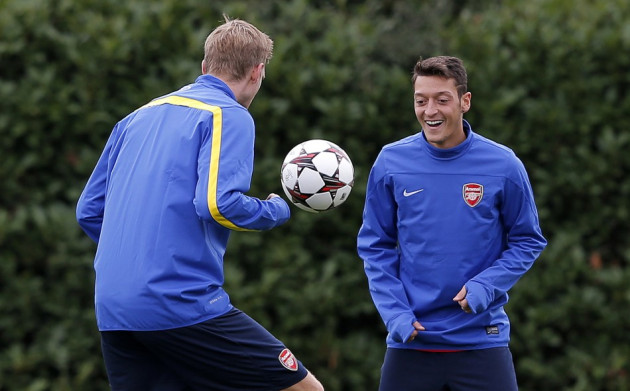 Dennis Bergkamp admits he can understand the comparisons made between himself and Mesut Ozil with the midfielder setting the Premier League alight this season since making his deadline day move to Arsenal.
Bergkamp was part of the Invincibles team during the 2003/04 season and across the Gunners' best years, winning three titles and four FA Cups over 11 years with the side before retiring in 2006.
He admits that he still holds a special place for Arsenal and like many supporters of the club has been amazed by how quickly summer signing Ozil has fitted into the line up.
And Bergkamp says that he doesn't want to compare himself to the former Real Madrid man but believes that the midfielder could be the missing link in Arsenal's goal to end their trophyless run and become a force in Europe.
"I don't like comparing," he told the Telegraph. "We're all unique. But I do understand the similarities people see and I believe he can be very important to the team.
"It is still early days. He is a tremendous player with a lot of effective skills like controlling the ball, making creative passes and assists, taking the right position in the field every time. And he's extremely experienced.
"Putting all that together I think you've got a player who can be the missing link in the Arsenal team, a player who will make a striker score goals, who will link up in Arsenal's position-game and who will score goals as well."
Ozil's fanfare at Arsenal has been somewhat unprecedented with the 24 year old turning the mood at the Emirates right around with his arrival at the end of the summer.
And Bergkamp says he's well aware that the midfielder is one of the best players in the world as the Gunners sit top of the table with one of their most positive starts to the season in years.
"Ozil knows exactly how to control the ball in what kind of space to give himself time," he explained. "That's the difference between the players and great players. With his intelligence and his touch and his skills, he is trying to do something right with every ball."