Dennis Stamp, meme wrestler and 'star' of Beyond the Mat, dies of cancer aged 70
He wasn't booked.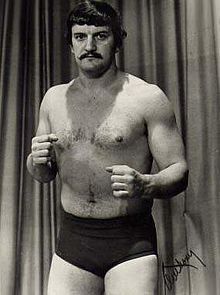 Dennis Stamp (1946-2017)
WikiCommons
One of professional wrestling's most beloved figures, the minor indies grappler who became a star thanks to his unconventional look and appearance in the 1999 behind-the-scenes documentary Beyond the Mat, has died. Dennis Stamp passed away from lymphoma at his home aged 70.
Born in Minnesota, Stamp began his wrestling career in the Ontario area before progressing to the AWA, where he was named rookie of the year for 1971.
Throughout the 70s he was a much in-demand midcard worker, mainly performing as a heel and clashing with the likes of Greg Valentine and the Funk brothers.
He also appeared, along with many of his contemporaries, in the 1978 Sylvester Stallone film Paradise Alley.
As the 1980s beckoned though, Stamp's appearance was out of fashion and he became a jobber, putting over the likes of Koko B Ware and the Rougeaus on WWF television. As work became less frequent, he began spending the majority of his time out of the profession and dedicating his career to pest control instead.
However, eternal fame came knocking in the late 90s thanks to his contributions to Beyond the Mat. Although the film was based around the exploits of three major names from professional wrestling (Terry Funk, Mick Foley and Jake Roberts), Stamp stole the show as the man who refused to show up for Funk's retirement show because "I'm not booked".
This, combined with the indelible image of him doing weight reps on a trampoline in his underwear, ensured that he would always be a part of internet wrestling mythology.
In his later years he parlayed this fame into appearances at wrestling conventions and even a return to the squared circle, appearing for Ohio's Absolute Intense Wrestling in 2015 for their I Choo-Choo-Choose You event.
Both wrestlers and fans alike have taken to social media to pay tribute to the late star.