Diego Costa has admitted he is not happy with the current situation at Chelsea, but feels like he is slowly becoming settled in the London way of life. The Spanish hitman says that his relationship with manager Jose Mourinho is good despite being left out of the starting line-ups in the recent games against Tottenham Hotspur and Bournemouth.
Costa appeared to throw his warm-up bib at Mourinho during the match at White Hart Lane, with the manager again benching him during the following Premier League defeat to Bournemouth. Reports suggested the Spaniard was growing frustrated with his situation and seeking a move away from the club.
But speaking to IBTimes UK after returning to the line-up in the crucial Champions League 2-0 win over Porto, he said: "It seems the English media want me to leave England as soon as possible. Because it's not normal what they say. But I do not speak English yet so the truth is that I do not hear what they say. When things are going well people put you in heaven and when things goes wrong they put you in hell.
"But the truth is that I'm happy here. Every day I am more settled. The only thing which I'm not happy about is the situation of the team. But If I were happy with that it would be very ungrateful. I have to improve and the team has to improve."
Costa also apologised for the notorious bib incident, but claims it was never his intention to throw it at his boss.
"No way. People have made a party about this," he said. "If I want to throw the bib at him it would have been impossible to fail because I was very close. But anyway the attitude was not good. It was disrespectful not only to him but to my teammates. But as the dressing room loves me nothing happens."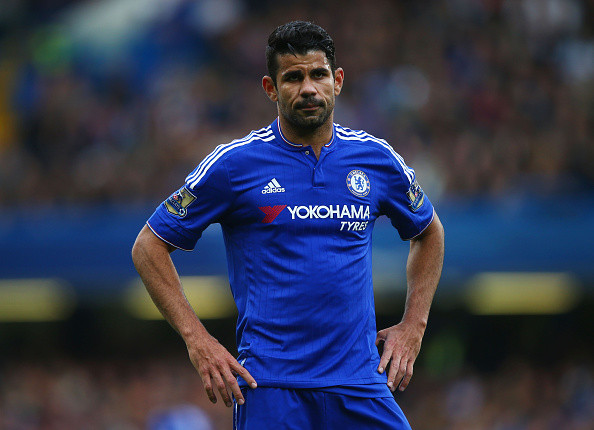 The former Atletico Madrid striker is the first to admit he has not been at his best so far this season. He insisted that Mourinho does not need to explain to him his decisions, as he is the boss.
"He spoke with me but he doesn't need to explain anything," he said. "The manager has the respect of everyone. The only thing he asked me is what I had to do but he doesn't have to explain because he is the boss. I know that I'm not playing well. The manager was very honest with me. We have a very good relationship and everything has gone well.
"I don't need someone to tell me that I'm not having a great season. I know it and it is normal that the manager tries to find different alternatives to win games. I have to work hard in the training sessions and take the opportunities to improve."
Mourinho's position at Stamford Bridge has also been under scrutiny in recent times after the Blues suffered their eighth defeat in 15 Premier League matches against Bournemouth at the weekend, leaving them 14th in the table. Some reports before the Porto game even claimed that the manager could be sacked should the Blues fail to reach the Champions League last 16.
But asked whether the players believed that it was an ultimatum for Mourinho, Costa said: "No. We know that the manager is going to stay here until end of season.
"Fans like him so much, the board respect him and the players know that he is very important for us. Despite things not going well he is not to blame. One thing is when one thing doesn't work but when four or five players are not playing it is more difficult. The manager has been fighting and encouraging us to turn this around."
The Blues eventually secured the qualification to the last 16 after a decent performance against Mourinho's former side, with Costa failing to score but showing glimpses of the player who impressed last season. He hopes the game could be a turning point in his season ahead of the Premier League trip to leaders Leiceister City.
"It was important to score early. The team were good throughout the whole game. It was very important to win. We came from a very bad run. It was important to win to give joy to the people and also to the manager," Costa said. "He was having a bad time. Not just him, all were bad but as he is the boss people are always looking for someone to blame. Leicester are having a great campaign but we are Chelsea and we have to go there to win.
"I played well but I still miss the goal. I felt well and now I need to keep working and the goals will come. "