A 69-year-old Indian multi-millionaire has splurged £15,000 on a full-page advertisement in The Times of India's matrimonial section in an attempt to find a wife.
The ad was posted by Dinshah Vimadalal, who made his money in the travel industry, and whose wife died three years ago, in a car accident. And Vimadalal wants his second wife to be "slim, under 40, childless and a non-vegetarian.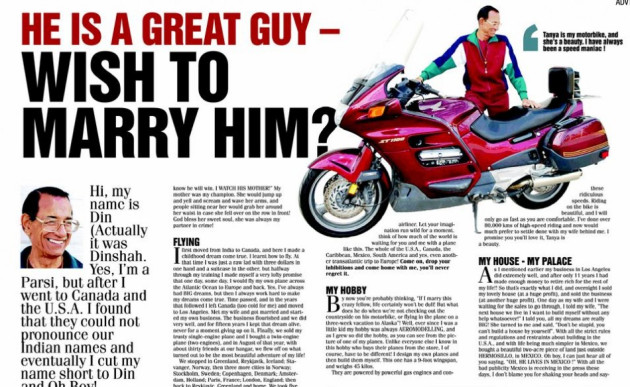 The ad reads as follows:
"You must speak English and have done your basic schooling. I don't care how much money you have or don't have. You should have a sense of adventure and the desire to live an exciting life. Be no older than 40 and slim. And please don't be a vegetarian. If you are divorced it doesn't matter, but definitely no children. I am much older than 40 but am very young at heart, very young physically, very active and any girl older than 40 would have a tough time keeping up with my active lifestyle."
Vimadalal says he left Mumbai in 1967 to fulfil a dream of becoming a pilot in Canada and later moved to Los Angeles, where he set up a travel agency and met his wife.
He told The Telegraph he searched for prospective brides in the US, Mexico and on the Internet but had found only a "bunch of idiots".
He also said he has interviewed 20 women since his ad was released but "there have been no serious possibilities".
What Else is in the Listing?
"I place a lot of emphasis on the figure. I don't mind if the face is not pretty but I like a slim figure and the girls who have been very nice had big fat bottoms. I don't like that," Vimadalal explained.
And other excerpts from the ad seem patronising at best, with this comment about his private plane: "... if you don't think she is beautiful then once again you better go see a doctor".
The copy concludes with this note:
"Think of the fabulous life I'm offering you living abroad: having a plane and all the freedom that goes with it; living in a beautiful palace of a house; never having to worry about money; and a loving husband to whom you will always be his precious little princess!"
Undercover Details
An Indian journalist, Pooja Naik, posed as a potential bride to meet Vimadalal and she details the experience on her blog:
"He asked my age, height and weight. ("Figure is very important,"). He then asked about my family, school (he was impressed to hear that I had a post-graduate diploma), and whether I was born in Mumbai. Then, with a twinkle in the eye, he asked if I was a vegetarian and whether I enjoyed intercourse."