The term 'dirty cash' has become a whole lot more literal in this day and age after a scientific study and survey revealed that around 26,000 forms of bacteria is on European banknotes.
Around 75% of people believe that "we should be somewhat or very careful when it comes to handling cash," while 64% of Europeans consider sharing bank notes and coins to be unhygienic or dirty. The only items that ranked higher in terms of poor hygiene were sharing toilet seats, tissues or toothbrushes [Figure 1].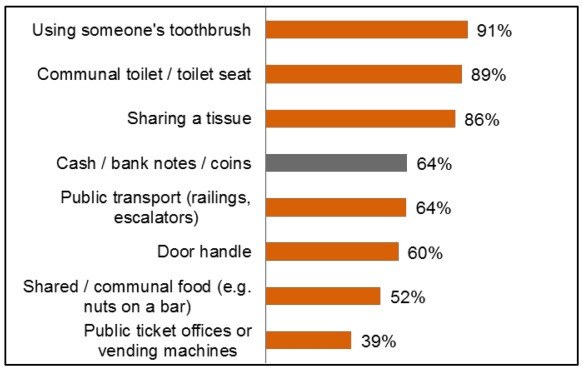 However, despite physical cash being riddled with bacteria, the new research commissioned for 2014 by Mastercard indicated that despite recognizing the hygienic pitfalls of cash Europeans are struggling to break the habit when it comes to spending it.
Only one in five wash their hands after handling it and are more likely to do so after completing other tasks such as travelling on public transport.
"There is a large gap between what people think and what they do when it comes to handling cash with only 1 in 5 Europeans saying they always wash their hands after handling cash," said the report.
"Instead, Europeans are more likely to wash hands doing other things, like touching an animal (47%), travelling on public transport (36%) and sneezing (33%). Some 27% of Europeans never wash their hands after touching money [Figure 2]."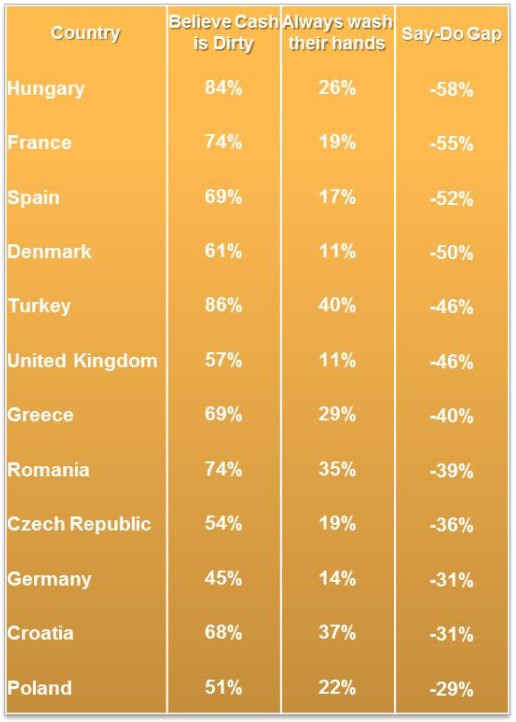 Interestingly, the study showed that those who do take the hygienic aspect for handling cash more seriously, have opted in to the idea of using a card or contactless payment instead of cash - around 39% are willing to do so to be more hygienic [Figure 3].