Disc-Shaped UFO Caught on Camera By Teenagers in Brazil [PHOTO, VIDEO]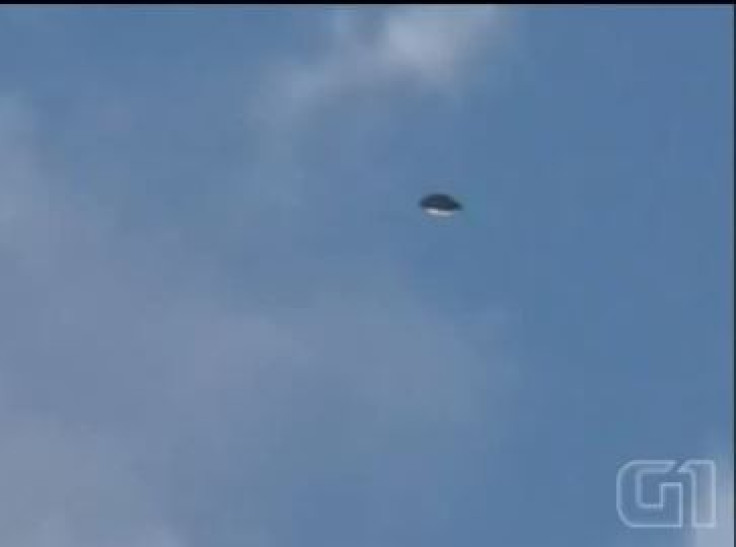 A video showing a disc-shaped Unidentified Flying Object (UFO) hovering over the skies of Minas Gerias, Brazil is doing rounds on the internet and has captured the attention of UFO enthusiasts from across the world.
According to local news media reports, the video was captured by four teenagers on Sunday, 25 August when they were playing with cameras in the backyard of a house.
The video was sent to Web site G1 South of Minas by Lais Aparecida da Silva Correia .
According to a report in Cub Brasil.net: "Many city residents sent messages to us stating that they saw something strange in the sky of Colac this afternoon, said it is a flying saucer. But only now has come for us this photo Leandro Ignacio A. Ruyber photographed in Itapina." (Translated from Portugese)
In a video available on YouTube, the disc-shaped metallic grey coloured UFO can be seen hovering between the clouds. As the children zoom in to focus on the UFO, the unusual object appears for some time in the screen and disappears again.
During the recording, the amused adolescents can be heard saying. "You can see just right. A ship, I'm sure."
According to Correia, a lawyer who uploaded the video, the unusual sighting left witnesses scared.
"They saw something strange in the sky and began to shout. Then they called adults. Seems quite a ship. We thought best to send the video to know what actually it is," she said.
The reports further suggest that after the sighting, local news media contacted a spokesperson for the Brazilian Air Force (FAB) for comments, but the request was not responded.
Check out the video of the sighting here:
[Video Courtesy: YouTube/Aleksander QGUFO]
© Copyright IBTimes 2023. All rights reserved.