Diver discovers 'African Atlantis' off Tanzania's Mafia Island
A diver has discovered what appears to be an ancient sunken city off Mafia Island in Tanzania. Diver Alan Sutton, from Seaunseen, had originally been looking for the remains of an old fort rumoured to have been washed away to sea, but instead he came across the remains of a wall stretching almost 4km.
"It was jaw dropping," he told IBTimes UK. "It's difficult to explain what it's like to find something like that. I wasn't expecting anything that large, I was expecting an old Portuguese fort and then found something much larger."
The discovery is detailed in a blog post by Sutton, with images showing remnants of the wall. Mafia Island is a small sand island. After flying over in a helicopter, he noticed an "unusually shaped formation in the water". The spot the formation is located in is remote and difficult to access. The location is particularly noted for its murky waters: "Because of the tidal movements and relatively shallow depth, visibility in the area is not good. This is almost certainly why the structures have not been spotted before," he wrote.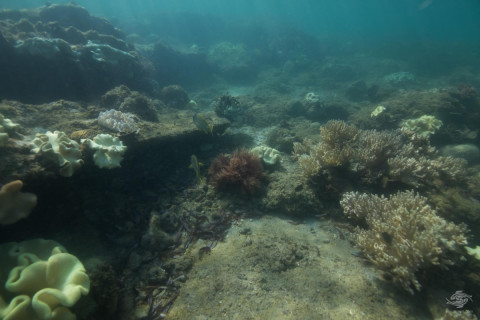 However, Sutton and a colleague eventually managed to visit on a low spring tide armed with boats and diving equipment. They were able to photograph and examine areas normally submerged, as well as diving down to see other areas still underwater.
They found a series of what looked like foundations circling a large area. Large oblong blocks up to 5m by 5m stretched along the foundation. The northern and southern foundations run around 3.7km in length – although they think more could be lying undiscovered, covered by sand. It was around 1km at the widest point, while the foundations were up to 10 to 20 metres in depth.
Sutton said the blocks resembled sandstone, but on closer inspection he thinks they are probably made from "some type of cement". "Some of the blocks also have small perfectly square holes in them as well as oblong holes in them near the edges. There are no sandstone deposits known in the area. The logistics of transporting the blocks to the area would have been formidable," he wrote.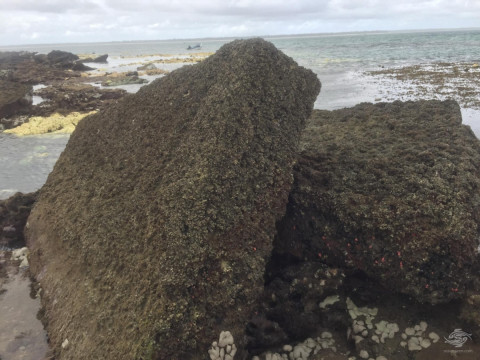 As the site is yet to be visited by scientists or archaeologists, its age is not known. However, Sutton points out coral growth near blocks would indicate they have been underwater for at least 550 years. "The site is very large, certainly the size of a city and is definitely man-made and very old," he wrote. "It seems very old and to have been extremely well-constructed, in a fashion unlike the architecture of other ruins in Tanzania and doubtless the site will keep archaeologists busy for many years. Without a large amount of research it is impossible to say exactly what the site is. It however appears to be a very old harbour city."
Why it sank beneath the sea is not known, although a number of possibilities are highlighted. This includes sea level rise, erosion and seismic activity. Sutton has reported the find to Mafia Island authorities and told IBTimes UK he will be visiting the site with archaeologist Felix Chami, from the University of Dar es Salaam later this month.
He has seen pictures taken by Sutton and said it was highly unusual - "enough to want to see for himself", Sutton said. "I suppose there will be lots of things he will look for. I saw a lot of square holes in the blocks which apparently is an ancient construction technique ... he's saying it's very old."