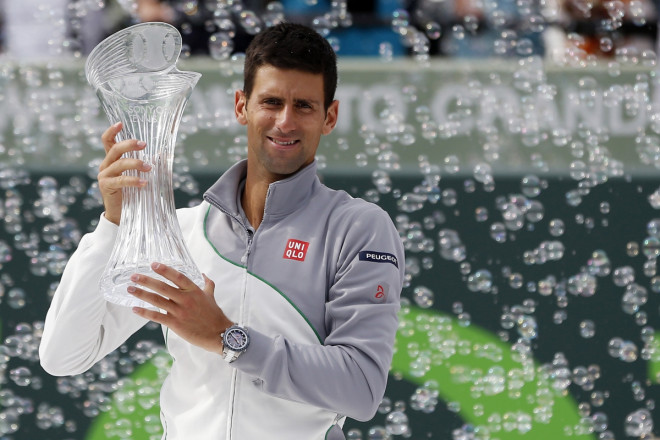 World number two Novak Djokovic defeated Rafael Nadal, the world number one, in the final of the 2014 Sony Open Tennis to claim the Miami title for the fourth time.
Djokovic needed 84 minutes to overcome Nadal in straight sets on Sunday, 6-3, 6-3. The pair was meeting for the 40th time, with the 27-year-old Spaniard holding an advantage of 22-17 going into this game.
Both men began the game on a strong note but the Serbian wrested the upper hand and won the first set 6-3. In the second set, the 26-year-old raced into a 2-0 lead before Nadal put up a resistance. Djokovic led 5-3 as his 13-time Grand Slam-winning opponent could not recover any further, enabling him to clinch his second Masters trophy of the month.
"It's been a fantastic tournament, a very enjoyable time as it always is in Miami. I played a great match, from the start to the end everything was working really well. It's always a challenge and a pleasure to play against Rafa. Back in 2007 I won my first big title here in Miami and I have the greatest memories from this centre court," Djokovic said.
Djokovic and Nadal had clashed in the final of the Miami Masters back in 2011, where the Serbian emerged triumphant in three sets. His other victories in the final were in 2007 and 2012 when he defeated Guillermo Canas and Britain's Andy Murray respectively.
Djokovic won the 2014 BNP Paribas Open title earlier this month, defeating world number five Roger Federer.
Nadal praised the Serbian for his back-to-back Masters titles this year.
Sunday's defeat was the Spaniard's fourth loss in Miami, having previously lost the finals in 2005 to Federer and in 2008 to Nikolay Davydenko before the setback against Djokovic in 2011.
"I want to congratulate Novak and his team, he played an amazing two tournaments in a row. Winning Indian Wells and Miami is very difficult to do. In no other tournament have I lost this many finals, but it's always a very special tournament for me. The energy and passion from the crowd is unforgettable," Nadal said.