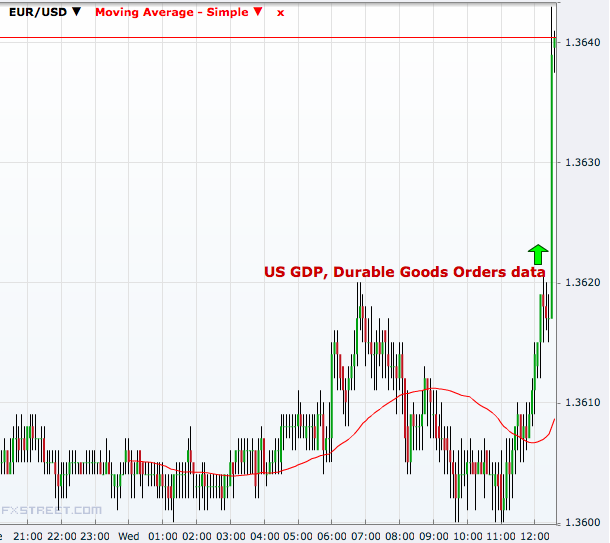 The US dollar fell against its counterparts on 25 June as GDP and durable goods orders data disappointed markets, but against Sterling gained comparatively less as key UK data are awaited in the week.
EUR/USD jumped to 1.3643 from 1.3618 following the data while USD/JPY fell to a 6-day low of 101.69 from 101.92.
USD/CHF dropped to a 19-day low of 0.8909 from 0.8937 and GBP/USD added about 30 pips to a high of 1.7004.
On an annualised basis, Q1 GDP contracted 2.9%, data showed Thursday, when analysts were expecting a drop of 1.7%. It compares with 2.6% growth in the previous quarter.
Durable goods orders fell 1.0% in May against a market consensus of 0% and compared with 0.8% in April.
Greenback's fall against Sterling was curbed inside the GBP/USD downtrending channel on the hourly chart since last Friday, showing that investors are awaiting more cues from the UK in the coming days.
The mid-year UK financial stability report will be released on Thursday and more importantly, the BoE governor Mark Carney will deliver a speech around the same time.
On Friday, UK Q1 GDP data will also be out where analysts are expecting the year-over-year growth to increase to 3.1% from 2.7% previously and the sequential growth to come at 0.8% from 0.7%.
On the hourly chart, GBP/USD is testing the 50-period moving average on the higher side, a break of which will open levels like 1.7017, 1.7033 and 1.7050 ahead of last week's peak of 1.7064.
On the downside, the levels to watch are 1.6966 and 1.6952 ahead of 1.6932, the low before it gained momentum on 18 June.