US President Donald Trump and UK Prime Minister Theresa May condemned the suicide bombing attack in Manchester, England, as "wanton and depraved" during a phone conversation on Tuesday (23) morning.
The White House said the leaders also praised the "courage, speed and professionalism" of those who responded to the incident at the Ariana Grande concert in the 21,000-seat Manchester Arena on Monday evening.
"The two leaders agreed that this attack – which targeted teenage children and their friends at a joyous event – was particularly wanton and depraved," the White House said.
"The president reassured the prime minister that Americans stand with the people of the United Kingdom and that our resolve will never waiver in the face of terrorism.
"He offered American aid in the United Kingdom's investigation and vowed to continue the mutual fight against terrorism."
The statement was released after Trump branded the perpetrator(s) as "losers".
"So many young, beautiful, innocent people living and enjoying their lives murdered by evil losers in life. I won't call them monsters because they would like that term," he said.
"They would think that that is a great name. I will call them from now on losers because that's what they are.
"This is what I've spent my last days talking about during my trip overseas. Our society can have no tolerance for this continuation of bloodshed. We can not stand a moment longer for the slaughter of innocent people, and in today's attack it was mostly innocent children."
UK security services know attacker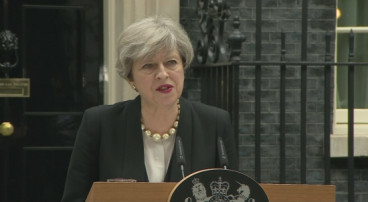 May, speaking on the steps of Downing Street on Tuesday morning, revealed that the British security services believe they know the identity of the attacker, who has left at least 22 dead at 59 injured.
"It's now beyond doubt that the people of Manchester and of this country have fallen victim to a callous terrorist attack, an attack that targeted some of the youngest people in our country with cold calculation," she said.
"This was among the worst terrorist incidents we have ever experienced in the United Kingdom. Although it is not the first time that Manchester has suffered in this way, it is the worst attack the city has experienced and the worse ever to hit the north of England."
The so called Islamic State (Isis) claimed responsibility for the bombing via its Amaq news agency. Greater Manchester Police, meanwhile, have arrested a 23-year-old man as part of their investigation into the attack.
Major UK political parties have suspended their campaigns ahead of the general election on 8 June in response to the major incident.