Robert Lewandowski's performance for Borussia Dortmund in the game that mattered most to the side, the Champions League final, wasn't able to gift his squad the win, and with that the question mark over his future this summer will only get bigger.
Lewandowski didn't hide his disappointment as the striker had to watch Bayern Munich hold up the trophy on Saturday night, admitting that he wouldn't be looking back on the match with any happiness anytime soon.
"We really wanted to win this final, but we didn't make it happen," he said. And when asked if he could take some solace in the fact that Dortmund were in such a final in the first place, he replied: "It doesn't really matter to me."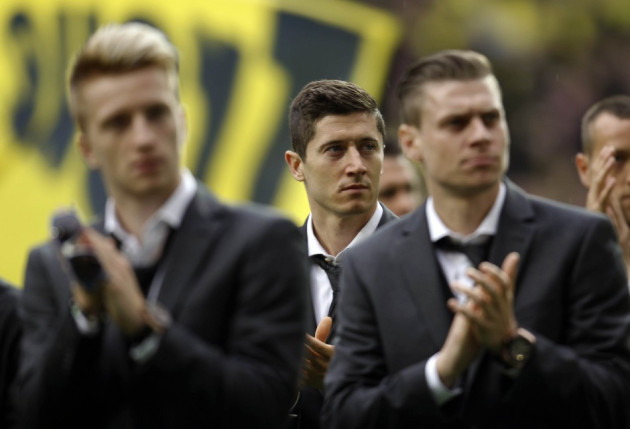 At 24 years of age, Lewandowski has the world at his very highly valued feet. The Poland international is coming off the back of a season in which he scored 34 goals in 43 appearances, and has been talked about in the same breath as many of the world's top clubs.
Sir Alex Ferguson made a rare public admission before his retirement that Manchester United wanted to sign the player, and reports have continually claimed that Real Madrid are also interested in his services.
Both clubs represent a recent history of both domestic and European success; and with Lewandowski currently holding two Bundesliga titles, it would appear clear that the hitman is looking for a club that can offer more than just titles after refusing to sign a new deal with Dortmund.
And it is likely that as is the case with Mario Gotze, who announced his departure for Bayern Munich on the eve of Dortmund's Champions League semi final against Madrid, Lewandowski is set to head to Munich as well, as any player would in preparation for a 2013-14 season which will only be made better by Pep Guardiola coming into the fold.
Jupp Heynckes admitted that the star is likely to come to Bayern in the summer, despite Klopp desperately trying to sell him abroad as he searches for another club.
"Mario Gotze is already there, and Robert Lewandowski will not have to wait too long now," he said. "Then the team has two top-class attacking players. It is quite possible that, with the right signings, Bayern could create a new era in Europe."
Klopp admitted that he had tried to stop Gotze from moving to Bayern, insisting to the 20 year old that he is still young and can leave any time he wants. But the playmaker replied that the club had told him the move would be now or never, and should Guardiola find a system that works without the Germany international, they would be a lot less likely to pay his €37 million buy out clause in the future.
Lewandowski might be feeling rather similar right now; the pull of Guardiola will show him that if he wants to take his chance to be a part of a club aiming for a successful dynasty, with the grounding to achieve it as shown in this season, now is the time to make the move.
And for this reason, no matter how big United or Madrid are as clubs, it will likely be Bayern that offers the most attractive proposition.