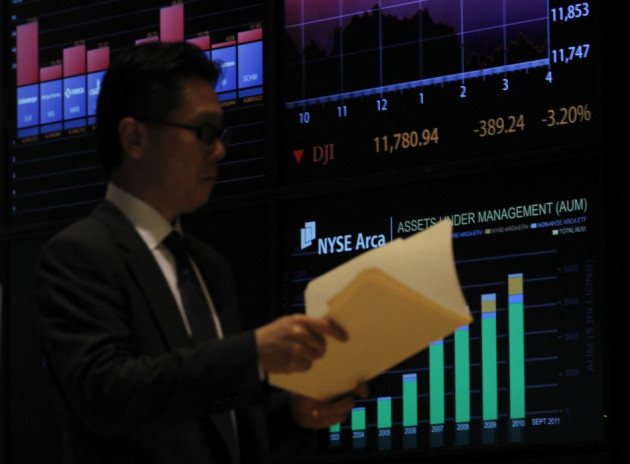 US stocks dropped sharply on disappointing results by blue-chip companies such as DuPont, United Technologies and 3M.
The Dow Jones Industrial Average slumped nearly 250 points - 2 percent. It later partially recovered to minus 1.70 percent. It was the biggest loss since June.
Standard & Poor's 500-stock index fell 1.4 percent to 1,413.68 after 127 of the listed companies reported earnings on Monday and other 33 were scheduled to follow.
According to Bloomberg, 60 percent of the companies missed their sales forecast, while 63 per cent of those that have already posted their results went short on analysts' top-line expectations for revenue, Reuters reported.
"The earnings season has not gone as well as many would like. In general, sales have been disappointing. There's heightened concern about global growth," New York-based senior investment officer for Chemung Canal Trust Co, Tom Wirth, said.
Shares of DuPont (DD.N) fell 8.2 percent to $45.68 as the chemical company reported lower profits than expected for the quarter and announced 1,500 job cuts.
Multinational conglomerate United Technologies Corp (UTX.N) earnings declined 3.3 percent and the company lowered its sales forecast for the year, as economic uncertainty badly affected the airlines market, the company said. Shares dropped consequently to $77.27, down 0.72 percent.
Minnesota-based 3M Co (MMM.N) lost 3.44 per cent down to $89.34, as the company cut its profit forecast for the year.
All together 3M, DuPont and United Technologies accounted for about one fifth of the 250 points lost by the Dow Jones Industrial Average.
In Europe markets weakened broadly with the Stoxx Europe 600 recording minus 1.67 percent.
Overnight Monday, Moody's downgraded credit ratings on five Spanish regions including Catalonia.