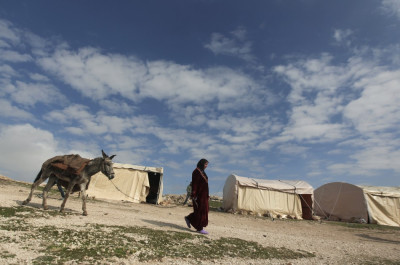 Palestinian activists have erected a protest camp on a disputed stretch of land where Israel intends to build new settlement homes.
About 25 large tents were pitched on the E1 area, a 12 sq km plot of land between Jerusalem and the Jewish settlement of Maale Adumim in the West Bank.
"We are setting up a Palestinian village where people will stay permanently in order to protect this Palestinian land," activist Mohammad Khatib said.
"This is not a symbolic act but comes in response to Israeli settlement building and we are sending a message to the international community that urgent action must be taken against Israel's settlement construction."
The camp has been named Bab al-Shams, Arabic for "gate of the sun".
Israeli police blocked access to the camp. A defence ministry spokesperson said further action would be taken and said the initiative "sounded like a provocation".
"If it is a construction violation, we will deal with it," the spokesperson said.
Israel gave the green light for the construction of a new settlement in the E1 after Palestine's successful bid to be recognised as a non-member observer state by the UN in December.
Widespread criticism of Israel's move followed and the international community warned that it threatened to jeopardise the peace process. A Jewish settlement in the E1 area would cut the Palestinian West Bank in two.
"Israeli settlements are illegal under international law and undermine trust between the parties," foreign secretary William Hague said.
"If implemented, these plans would alter the situation on the ground on a scale that makes the two-state solution, with Jerusalem as a shared capital, increasingly difficult to achieve."