Spammers are sending emails claiming to come from the World Health Organization (WHO) and purporting to tell you how to protect yourself from Ebola but which actually contain malware to infect your computer.
Preying on the growing sense of paranoia and fear around the Ebola outbreak in west Africa and other parts of the world, the spammers have crafted emails which encourage recipients to open an attachment to find out how they can protect themselves against the disease.
The attachment however contains malware and once clicked will infect the victim's machine. The malware is a remote access trojan (RAT) called DarkComet which gives the criminals behind the scheme complete control of your computer once it is installed including turning on the microphone to record conversations, steal passwords stored on your computer and even lock or shut down your PC remotely.
Targeted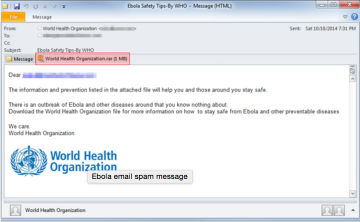 However, while other similar spam email campaigns have targeted millions of victims at once, this campaign seems to be a much more targeted one, with this particular email sent to just a few hundred organisations.
With such a low volume of spam emails, the aim could be to send it to organisations who may have some dealings with the Ebola outbreak, and would therefore be more likely to open such an attachment.
Trustwave, the security company which discovered the campaign, said it saw an email being sent to one of its honeypot addresses, suggesting it was not at all targeted.
"It suggests a low volume campaign in an attempt to infect random users in the hope of gaining some data that can be used or sold," Trustwave said.
Piggybacking
It is likely however that if the Ebola outbreak spreads, so will the criminals spam email campaign.
"It isn't surprising to find cyber criminals continuing to piggyback on newsworthy and major events, disasters and outbreaks in order to lure potential victims and spread their malware," said Trustwave, the security firm which discovered the spam emails.
Last week, the United States Computer Readiness Team (US-CERT) made an advisory about protecting users against scams and spam campaigns using the Ebola virus disease as a social engineering theme.
Along with this spam email campaign - and there are likely to be others - fake Ebola news is also spreading via Facebook, where people are being tricked into clicking on links such as one which claim outbreaks of the disease among children in a US school.
There is also the increase of stories from sites such as the National Report which operate under the guise of satire, but which have been accused of making money by tricking people into spreading fake stories about the Ebola outbreak.