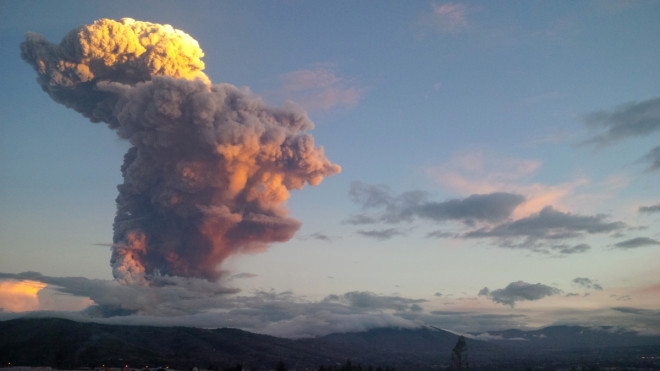 A 16,480-ft volcano in Ecuador spewed six mile-high ash and smoke into the air, during an explosion that lasted for about five minutes.
Multiple blasts were heard from the Tungurahua volcano accompanied by tremors.
A third strong flare-up spewed ash about 1.5 miles high above the summit, which drifted northeast, Volcano Discovery reported on its website.
Some of the explosions were powerful enough to rattle windows and doors of the Tungurahua Observatory (OVT) about 14km northwest of the volcano.
The volcano which is just 90 miles down south from the capital Quito, had been particularly active since 1 February when it first erupted, affecting about one-third of the country's provinces.
Since then, the volcano has emitted clouds of ash and smoke into the air quite regularly, raising fears of eruption.
"For now ashfall is mild," the National Secretariat for Risk Management said on Twitter. But, the volcano continues to be restless generating moderate seismic activity.
Apart from ash and smoke, Tungurahua also emitted pyroclastic material occasionally during the last few days, which was not observable due to cloud cover but could only be inferred indirectly.
About 460 small but fairly long-lasting earthquakes were recorded between 27 February and 1 March.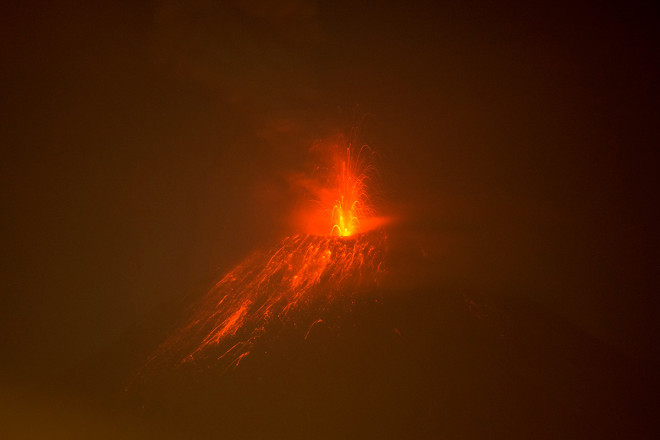 The volcano came to life in 1999, and had been erupting intermittently, spewing molten lava and smoke.
In a 2006 eruption, two people went missing in a village while four died of toxic fumes from Tungurahua.