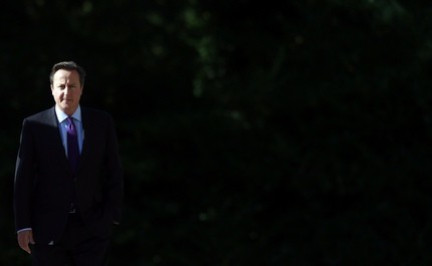 A month has passed since Ed Miliband made his keynote party conference speech promising to freeze energy prices if elected in 2015, and David Cameron's coalition government is, as a direct result, facing a pivotal political moment which will likely decide the outcome of that election.
Not even Miliband, in his wildest dreams, could have imagined the effect his speech would have. He may have believed his intervention would throw the government onto the defensive, and he was right.
But what nobody could have foreseen was the way the ripples from this one policy, important though it was, would spread and start rocking other rafts on the coalition's pond.
It is very often the case that a single incident can decide the wider fortunes of any government as everything that happens in its wake is seen through the prism of that single event and what it said about the government's competence, discipline and "grip". The energy policy is that event, with bells on.
And it is now the case that the relationship between the Liberal Democrats and the Tories - specifically between Cameron and his deputy Nick Clegg - have been fundamentally affected by the row, relations within the Tory party itself have been turned and the government's relationship with the electorate is under review.
Clearly there have been other factors playing into this great drama which has already seen Chancellor George Osborne re-casting his keynote autumn statement, set for 4 December, in a bid to match Miliband's policy by "rolling back" green levies.
Osborne was already expected to pull a few new measures of out his hat to combat Miliband's successful attempt to move the economic debate onto the "cost of living crisis", but consumers' energy bills have now become the symbol of that campaign.
So expect to see a proportion of those energy bills which currently pay for things like the warm homes discounts switched to general taxation instead.
But this policy was apparently made up on the hoof by Cameron in panic at the ground the government was losing to Labour. And, when he finally found out about it, it did not please the deputy prime minister one little bit.
Clegg has confirmed it came as a surprise to him and that "it's not something that I fully agree with" and he will be looking for concessions. Very likely he will be appeased by the promise the money will still be available for his much-cherished green initiatives, but will just come from different "taxes" on the voters.
Meanwhile, the effect Miliband's destabilising speech has had on the coalition, as the Lib Dems consider the possibility of a Labour victory at the election, has also been to sharpen Clegg's determination to draw those thick lines differentiating his party from the Tories.
That would explain why he was so eager to flag up his speech criticising free schools' habit of employing unqualified teachers, despite his own minister being a driving force behind it. He wanted to make this dividing line anyway, but as his subsequent remarks have shown, he would have been far more nuanced about it.
We can now expect much more of this sort of thing as the general election campaign appears to have moved forward by approximately a year.
Then there has been the effect the Miliband speech has had on the Tory party, which has been graphically exposed by the recent intervention by former Conservative Prime Minister Sir John Major.
The so-called grey man of politics proved he was anything but, and even drew suggestions he had gone red, with a weighty and highly-significant speech to political journalists.
He not only, and almost as an afterthought, demanded a windfall tax on energy companies, claiming Miliband's heart was on the right issue.
But he delivered a comprehensive analysis of where Cameron was in danger of going wrong on everything from Europe to welfare. The sub-text was that the party was in danger of regaining the "nasty party" label, specifically by ignoring the "silent have nots", the people Major grew up amongst, to concentrate on the core vote.
It was a classic One Nation-style Tory platform that he clearly believes the coalition is in danger of abandoning.
If it was meant to be helpful to Cameron, to whom he is hugely loyal, it may well have had the opposite effect as it created waves in Westminster. Had Cameron not been in his current post-conference crisis it may have been seen as "an interesting contribution", but seen through that single event prism, it took on far more significance.
What effect all this is currently having on the public is an open question. Opinion polls still do not suggest Miliband is on the way to power, but they do show support for his energy policy.
And, for the first time, we are seeing a Miliband operation that appears as sharp, effective and single-minded as Cameron's.
There is still a long way to go until the next general election and it would be ludicrous to suggest that things will not change between then and now. But the danger for the Tories is that, at the moment, they are being defined by their reaction to that single Miliband speech and it is affecting everything they do.
David Cameron and his team have a good story to tell over the economy but are finding it impossible to get that message across. The latest move on green levies is clearly an attempt to shut the energy prices issue down once and for all.
But there will be real fears within the coalition that the affair has already changed the way people perceive the government. And, once voters have decided what they think of a particular party, government or leader it is notoriously difficult to shift that perception.