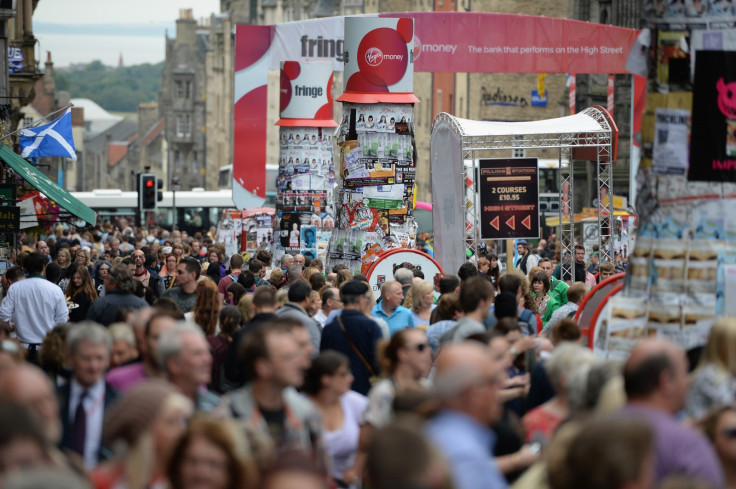 With just over a week left of this year's Edinburgh Fringe, there's plenty of time to catch a show. Here's our pick of the bunch:
Austentatious
Jane Austen-inspired improv may sound odd, but it's been one of the hits of the festival this year. A small cast interprets a title suggestion from the audience in the style of an Austen novel (with previous hits including Mansfield Shark) and hilarity ensues. IBTimes UK was lucky enough to witness a storyline including a sauna, a ribbon shop and an obsession with poles that kept us belly laughing long after we'd left the packed-out theatre. The only problem with Austentatious is tickets sell out fast and we had to beg borrow and steal to get in. Book in advance: 20-21 August, 1.10pm, Underbelly George Square
Fat Girls Don't Dance
A one woman show mingles some old school garage moves with a brutally honest account of body image from talented spoken word artist Maria Ferguson. It's one of the only shows IBTimes UK went to see based purely on persuasive flyering from a performer – and it was one of the best decisions we made all weekend. The narrative was so familiar it was deeply uncomfortable to watch at times; all part of Ferguson's clever talent for provoking an audience reaction that included distributing cake before delving into the guilt behind eating. It's well worth keeping an eye out for Ferguson's slick style elsewhere.
20-28 August, 2.50pm, Underbelly Cowgate
Abandoman: Life + Rhymes
There are fewer crowds as Edinburgh as excitable or energetic as those at Abandoman. Or as busy. It's packed to bursting point the night we queue up to get it, and the Irish hip hop act get an incredible response from the audience. The comedy music show combines a little of Abandoman's history with a lot of audience feedback. Ever wanted to hear someone rap a story about audience members or their possessions? Go along, you won't regret it. 20-29 August, 8.45pm, Underbelly George Square
The Lounge
If you manage to get through to the end of the show without shedding at least a small tear, you've got a smaller heart than us. Three impressive actors from theatre company Inspector Sands shine a light on a range of characters in a nursing home, managing to morph convincingly into nonagenarians before bouncing seamlessly into the roles of young carers. An unflinching look at the passage of time and how society treats the elderly, there's a sad and haunting feel to The Lounge which is leavened with just enough dark humour and fantasy to create a thought-provoking and entertaining show.
20-27 August, 3.25pm, Summerhall
Vicious
A tongue-in-cheek guide to dating, spiteful people and, er, Cheryl Cole, Vicious is the brainchild of Alice Marshall who reportedly wrote the show after a particularly bad breakup. Luckily, the actress gets the last laugh with a sharp performance explaining why people "are arseholes". Marshall's character comedy brings some hilarious audience participation, though perhaps not so funny for the man forced to go on a "date" on stage with Marshall's unlucky-in-love creation Louise, who takes orders from terrifying dating guru "Greta Medina".
20-28 August, 17.20, Just the Tonic at The Caves