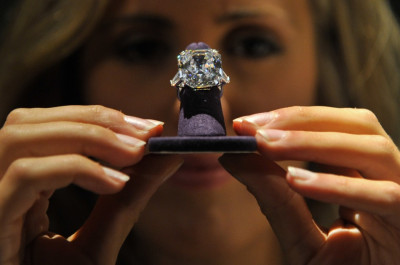 Legendary actress Elizabeth Taylor's jewellery collection has been unveiled at Christie's. The auction house says that this will be "the greatest private collection of jewellery ever assembled in one place."
The exhibit is the second of a world tour of the items from the late British-American actress's estate due to be auctioned in New York in December.
The first two-day display of Elizabeth Taylor's collection of jewellery, paintings and costumes was held in Moscow's GUM shopping centre on Red Square in mid September.
It features some of the most unique diamond, emerald and ruby collection possessed by the actress, who was known for her passion for fine jewellery, fashion and perfumes.
Taylor's love affair with jewellery is well-known. She had once said, "My mother says I didn't open my eyes for eight days after I was born, but when I did, the first thing I saw was an engagement ring. I was hooked."
The men in her life understood her love for bling and took every excuse to please her. She said in her book, "I mean, how many young women get a set of rubies just for doing something wholesome like swimming laps? Or win a diamond ring at Ping-Pong with their husband...? Well, I did, and for all of these memories and the people in my life, I feel blessed."
Her jewellery collection is outstanding with exquisite pieces from the world's top jewellers like Cartier, Bulgari, Harry Winston and Chopard. She wrote a book featuring her jewellery aptly titled, "Elizabeth Taylor: My Love Affair with Jewellery."
Besides the glittering gems, jewellries and dresses, an Andy Warhol portrait of Elizabeth Taylor also forms part of the collection of the violet-eyed actress.
Check out the slideshow of Elizabeth Taylor's most exquisite pieces.