Elon Musk's dream of an 800mph train called Hyperloop is being kept alive by a team of 100 engineers giving up hours of their free time in return for shares in a company which doesn't yet have funding.
Hyperloop Transportation Technologies was founded last summer in a bid to turn Musk's whitepaper plans for the Hyperloop into reality, and now they claim to have ironed out the creases enough to start production of a series of prototypes in 2015.
Contributing ideas and brainstorming technical problems through the cloud-based JumpStartFund platform, almost all of the engineers have day jobs at companies like Boeing, Nasa, Yahoo and Airbus - as well as Musk's Tesla and SpaceX. They applied for the right to work on Hyperloop, while a further 100 were rejected.
Wired reports how the team is split into working groups based on their skills and interests; the teams are currently working on route planning, capsule design and cost analysis. All final decisions are made by group CEO Dirk Ahlborn.
Although Musk's 57-page whitepaper was far more detailed than anyone was expecting, it's far from a simple set of instructions. The group predicts it will be mid-2015 before a technical feasibility study is finished, and by the end of next year it hopes to have begun work on one of several prototypes.
Where Musk suggested running the trains on a cushion of air through a partially-evacuated tube, Hyperloop Transportation Technologies are considering a magnetic levitation system instead, as already used by Shanghai Maglev Train. How fast such a train could go isn't yet known, but Ahlborn is confident that, contrary to one analysis of Musk's plans, it won't be "a barf ride".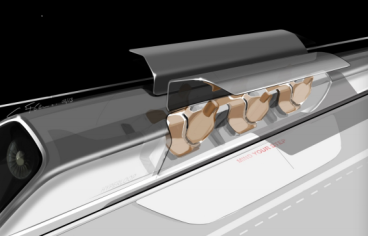 Musk suggested that Hyperloop would travel 300 miles between San Francisco and Los Angeles in around 30 minutes, thus offering a significantly faster alternative to the US government's planned 130mph train between the same two cities.
The engineers now working on Hyperloop are less interested in location; they just want to build it, and if that means looking beyond the US to countries with fewer political hurdles in place, like Dubai, then that's what they'll do.
Hyperloop stations would use Kiva robots, similar to those used in Amazon's warehouses, to ferry passengers' luggage between train and terminal.
Ahlborn says the questions of how to build the capsules and low-pressure tubes have mostly been solved, but the issue now is how to move the capsules and work out how fast they can go.
Despite working for free, every team member receives shares in the company for their contribution; if funding does eventually arrive, they could see significant windfalls for their work. Ahlborn says: "I have almost no doubt that once we are finished, once we know how we are going to build and it makes economic sense, that we will get the funds."
A final prototype can be build "within the decade, that's for sure," Ahlborn said.
The team believes Musk's estimate cost of $6-10 billion (£3.8-£6.4bn) for a 400-mile route is realistic - and much lower than the government's estimated $60bn outlay for its own 130mph train.