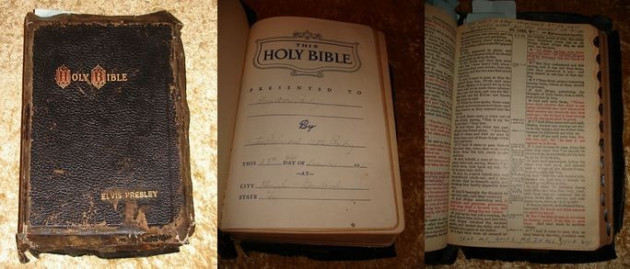 A Bible belonging to the late Elvis Presley has sold for £59,000 at auction in Stockport. The auction was conducted by Omega Auctions.
The 1,600-page Bible, which was one of a number of items of Presley memorabilia on sale, had the singer's name printed in gold on the leather cover. It was given to him by Vester and Clettes Presley, his uncle and aunt. It is reported Presley kept the book until his death in 1977.
It contains handwritten and highlighted verses, including a quote from the gospel of Saint Luke (Luke 9:25): "What is a man advantaged if he gain the whole world and lose himself or be cast away?"
The auction was organised on behalf of a British collector and fetched a total of more than £100,000.
"It was a really exciting atmosphere in the room. We had 300 people and there was bidding online and on the telephone across the world," Karen Fairweather, a sales room manager at Omega Auctions, said.
"You could hear a pin drop when it sold for that price. There were three rival bidders on the phone and once it got over £20,000, each bid was taking a while, because they each had a price in mind for the Bible and they were thinking about it. There was a round of applause when the hammer went down. It was incredible."
The winning bid was made by an unidentified American buyer who lives in the UK.
Other items in the auction included Presley's film contract for Follow that Dream (1962), which sold for £6,000, and a pair of shoes made by the Black Flagg Brothers, which sold for £6,500.
A pair of the singer's pants went unsold.