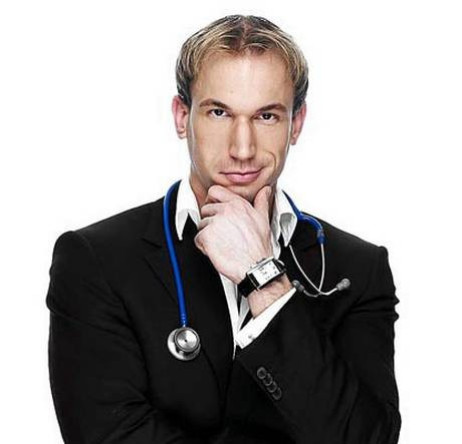 Dr Christian Jessen, the presenter of Channel 4's Embarrassing Bodies, has gone under the knife to have his second hair transplant.
The 36-yaer-old doctor admitted he made the decision to have the £5,500 procedure after being subjected to cruel jibes on Twitter.
"Your name crops up on blogs, chat rooms and forums like Twitter. They are not talking about your medical skills or your bedside manner - they just comment on your looks," he said.
Jessen's already thinning hair got considerably worse after he suffered a debilitating bout of pneumonia in 2012.
As a result the TV star says he was targeted by Twitter trolls with cruel comments such as "great body, pity about the hair", and "you've got s*** hair"
"Most of my hair grew back after the pneumonia but there was just a bit less," he explained. "Any serious illness can result in hair loss. The same thing can happen to women after they give birth."
Jessen had his first implant four years ago.
"I hadn't realised that there was an option for a second hair transplant. When I was told it was possible, I thought it would be good to make my hair thicker at the front. There were also a few gaps which need filling.
"The techniques have improved a lot in the four years since I had the first one."
Manchester's Crown Clinic surgeon Asim Shahmalak transplanted 3,000 hairs from the back of Jessen's scalp to the front.
Jessen said the operation had given him a new lease on life.
"I am very pleased that I had it done - it has been very empowering for me," he said.
"I thought to myself, 'Why am I always telling people how to change things about their bodies that they dislike if I can't do the same thing for myself?'"