Emilia Clarke reunites with former Game Of Thrones co-star Jason Momoa during Paris Fashion Week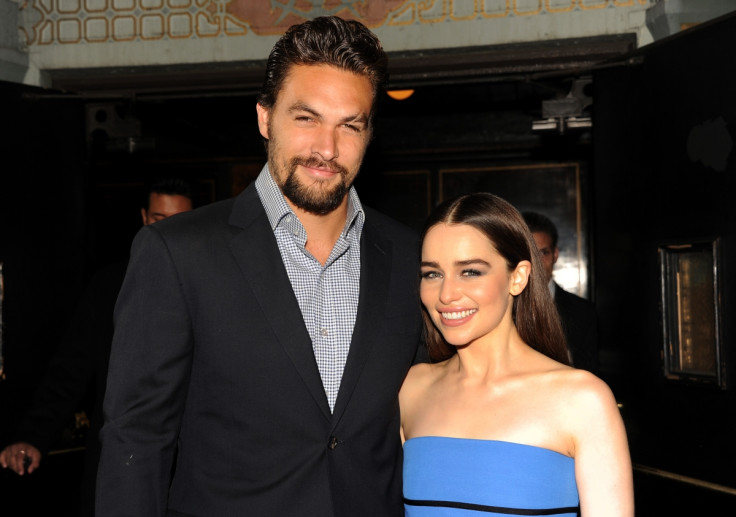 Emilia Clarke and her former Game Of Thrones co-star Jason Momoa reunited during Paris Fashion Week on 2 October in France. The 28-year-old actress who plays Daenerys Targaryen in the hit HBO series took to Instagram to share an adorable picture with the 36-year-old actor, who is well known for his role as Khal Drogo.
In the image, Clarke is seen sitting on Momoa. She captioned the image: "Well I guess the sun rises in the west and sets in the east then huh? Paris fashion week just kicked off....! #Momoaloveforlifebaby#nomorebeerleftinparis#bestdresseddothraki."
Momoa also posted several photos from his meeting with Clarke. He wrote under one of the picture: "My khalessi@emilia_clarke When she smiles at you......."
Momoa took the opportunity to recollect the moment he was killed off in the season 1 finale of Game Of Thrones. He wrote: "Really sorry I trusted u Thanks for killing me. I'd do it again though. That look my khalessi@emilia_clarke ps. I fucking pillow. #hahahahahaha#ohwell#comingbackasafuckingdragon
Meanwhile, Clarke recently slammed reports that she hates filming sex scenes, insisting she was misquoted. She took to the photo sharing website to set the record straight.
"I was followed into a party by a journalist who asked me a question about female empowerment and then quoted me entirely out of context for an outlet I didn't agree to speak with. So I feel now, with the beauty of Instagram I should clarify my statements, if for nothing else than for posterity," she revealed.
"In drama, if a nude scene forwards a story or is shot in a way that adds insight into characters, I'm perfectly fine with it. Sometimes explicit scenes are required and make sense for the characters/story, as they do in Westeros. If it's gratuitous for gratuitous sake, then I will discuss with a director on how to make it more subtle. In either case, like a good Mother of Dragons, I'm always in control." She also added the telling hashtags "#dracarys #bodiesmaybetemplesbutmindsarewhatmatter #MODforreal". Game Of Thrones season 6 is expected to premiere in April 2016.
© Copyright IBTimes 2023. All rights reserved.