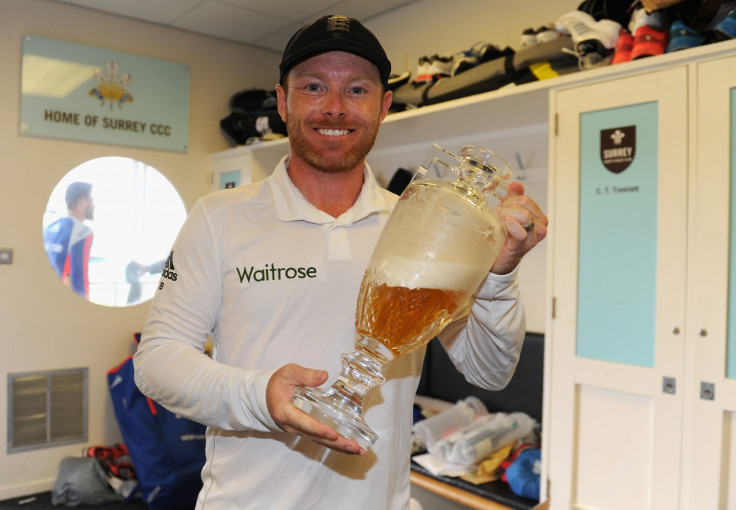 Ian Bell has confirmed his intention to retire from one-day international cricket as he seeks to prolong his test career after winning the Ashes for the fifth time in his illustrious England career earlier this month.
The Warwickshire batsman, who has featured in 115 tests, 161 ODIs and eight Twenty20 matches for his country since debuting against the West Indies in August 2004, endured a mixed series against Australia and averaged 26.87 over nine innings with three half-centuries and a high score of 65 achieved in the crucial eight-wicket victory at Edgbaston.
Bell has been criticised extensively for his lack of form at times over recent months, but was elevated to number three during the aforementioned third test as head coach Trevor Bayliss and captain Alastair Cook altered their batting order after deciding to omit Gary Ballance.
And after admitting he needed time to assess things following the draining experience of England's 4-1 win that ended on something of a sour note with a heavy defeat at The Oval, the 33-year-old insists he is not yet ready to step away from the test arena but will opt out of ODI duty to allow England's younger crop to stake their claim.
"For that reason I've decided now is the right time to officially stand down from international one-day cricket and put all my focus and attention on my Test career," he revealed in his column for The Metro newspaper. "I've a huge amount still to give in the Test arena and still have so many ambitions left to achieve, both from a personal and a team perspective.
"I spoke with our Trevor Bayliss, Paul Farbrace and Alastair Cook in the aftermath of the Oval Test. We had a really good talk and I was as honest as I could be. Deep down though, I think I probably knew I wasn't ready to call time on my England Test career. I still have that hunger and desire. The day you don't, is the day you step away.
"Since then I've sat down with the people whose opinions matter most to me, like my wife and my dad, and it became clear pretty quickly that I still have plenty I want to achieve in Test cricket. The words of encouragement I've received from so many people and the few days of rest I've had have already emphasised to me that I'm in no way ready to finish."
With Ashes victory secured, England face Australia in a one-off T20 contest in Cardiff next week before beginning a five-match ODI series against the tourists at the Ageas Bowl on 3 September. Squads for both of these events have been announced, with Joe Root set to receive a well-earned rest and several younger players to be given a chance to impress.
"Stepping completely away from the one-day side of things, however, and allowing the young guys to make their mark on the team, will allow me to focus on my goals within the Test set-up and for me to get back to playing my best red-ball cricket," Bell continued.
"It's been an honour and a privilege to represent the ODI side on so many occasions and I'm hugely proud to hold the run scoring record, but now is the time to celebrate the new flock of incredibly talented guys coming through and watch them develop into a team everyone can be proud of. Something I have no doubt they will do."
Bell's absence from the upcoming ODI series means his next appearance for England will likely come during the three-match test series against Pakistan in the United Arab Emirates in October. Cook's side are also set to tour South Africa between late December and February.