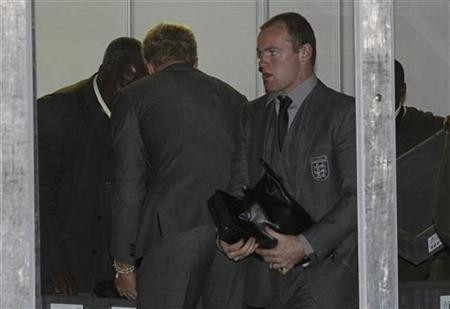 England yesterday put the disappointment of the World Cup behind them with a fighting performance led by captain Steven Gerrard to beat Hungary after going down to a dubious second half goal which was unfortunate to be allowed despite it not crossing the line in video replays.
It was a fine victory against all the odds, as England suffered the humiliation of going down to a ball that defender Michael Dawson had cleared before it crossed the line - but was given as 'goal' by French referee and officials.
Capello could have been upset by the decision - and rightly so - especially after that fateful day in Bloemfontein when Frank Lampard's equaliser against the Germans was ruled not to have crossed the line unjustly.
'TENSE' FIRST HALF
Despite the build-up, atmosphere at Wembley was generally cordial as fans welcomed home their national team, and England started brightly with newcomer Phil Jagielka involved early on in some entertaining England pressure.
On Wembley's new £20 million artificial turf, it was the kind of football that fans were wanting and the emerged cheers largely drowned out any booing.
However as time went on the national team settled into its rhythm leaving Hungary space to exploit and the game became largely a balanced one - with Rooney's disallowed goal the only moment of 'spark' through the first half.
DISAPPOINTMENT TURNS TO JOY
With England fans expecting a goal, and soon however, it was the Hungarians who emerged with the luck required for a goal to break open the deadlock in a match that was largely 'possessional' - a goal was exactly what was needed.
Gerrard, seizing the ball scored with a venomous strike and four minutes later was to repeat his the feat after eluding the attentions of the Hungarian defence.
The night was filled with magic as both Adam Johnson, and Bobby Zamora both going close to opening their scoring and showing a bright future that lies ahead for England's new 'Golden' generation.
It was also a night of ending for some - with 'Goldenballs' David Beckham retiring - announced by Capello during half-time.
"David Beckham was really important for the national team but I want to choose young players because the future is the young. My relationship with him is really good and I think we will play the last game with him here in Wembley." said Capello after the match, adding he was happy with the performance.
Gerrard, hailing Beckham, added: "It's been a pleasure to play alongside him. Legendary status without a doubt."
"The players have had a lot of criticism. A lot of it really fair and some of it unfair," said Gerrard aluding to some negative parts of the stadium who boo the team, "From my reaction for the first goal you can see how much it means to me and the players to be part of this group."
"A lot of criticism had been directed at us saying that we don't care and it doesn't mean anything for us to play for England," said the England skipper, "Unfair criticism hurts as a player because there's no need for it."
And rightly so.
For on a night where Lady Luck ruled on Hungary's side, England showed they have the passion and determination to win against fate and destiny - and for all their World Cup past, fans will surely look forward to Euro 2012 and the road to glory.