England's Jos Buttler did not fear being dropped prior to his record-breaking one-day century against Pakistan, despite a dismal run of form with the bat in 2015. The Lancashire wicket-keeper scored his country's fastest ODI hundred from just 46 balls against Pakistan in Dubai to inspire a 3-1 series win in a rare 2015 highlight for the 25-year-old.
Buttler was replaced in the Test team by Jonny Bairstow for the third match of the 2-0 series defeat by Pakistan following a string of disappointing performances. The run of form had seen him average 15.25 in the Ashes against Australia and 8.50 in two matches in the United Arab Emirates.
Coupled with an eight-match spell in the 50-over game without a score over 50, the right-hander could have been forgiven for thinking his place would be under threat come the one-day and T20 series against Pakistan. But Buttler, who has now scored England's three fastest one-day centuries, told IBTimes UK: "[I was] not necessarily [worried about my place].
"I think obviously one-day cricket has always been a strength of mine and I've produced a few good performances in that. The few games before [the 46-ball century] I'd come in at the end looking for quick runs. It is not always the end number that shows the exact situation you are in but I am always confident I can perform with the white ball.
"Obviously the confidence of getting a few runs in Sharjah [49 not out] and the great platform laid by Joe Root and Jason Roy allowed anyone in that middle order to go and navigate the overs. Luckily enough it came off for me.
"Whatever format you're playing of international cricket you're under pressure to perform. It is a performance environment and that is what you have to do in that situation. You do your job for the team and in international cricket there are always players on the fringes or missing out so you are always under pressure."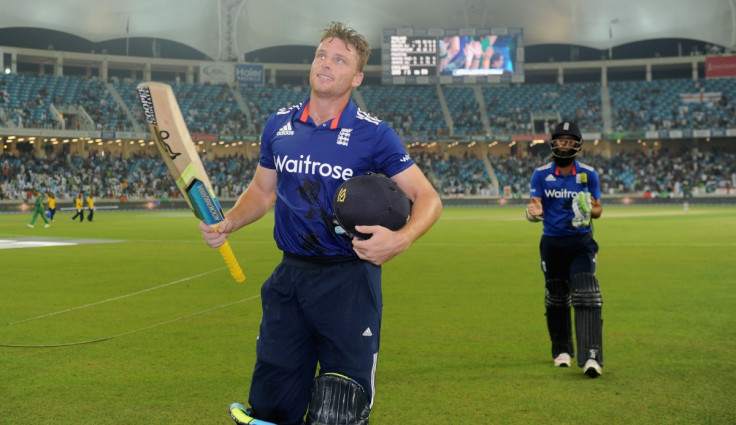 Coach Trevor Bayliss is confident that Buttler's aggressive approach will eventually pay off in the Test arena. England face South Africa, Pakistan and Sri Lanka in the long-form of the game over the next 12 months, but with the T20 series approaching, Buttler will not become distracted. "When the tour is finished I can start to think about [adapting better for the Test arena]," he added. "You can get side-tracked thinking about too much.
In preparation for next year's T20 World Cup in India, England face their penultimate series prior to the major tournament against Pakistan starting on Thursday [26 November], in the first of three matches against the 2009 champions. Conditions in the UAE will be similar to those they encounter next year and Buttler says the series represents ideal preparation.
"[The series] is hugely important to the team," he explained. "We have three games in a row, the first time we've had a series for a while in conditions that will be similar to the World Cup and that will be important for us to build some momentum. We can learn some things out about the side during each game."
Following their recent tour of the UAE and ahead of the 2015 Formula 1 Etihad Airways Abu Dhabi Grand Prix this weekend, Jos Buttler swapped cricket whites for a race suit at Yas Marina Circuit, becoming a pit crew for a day. Grand Prix sponsor, Etihad Airways, are the first ever official airline partner of the England cricket teams. All England national teams fly with Etihad Airways as part of the partnership. www.etihad.com