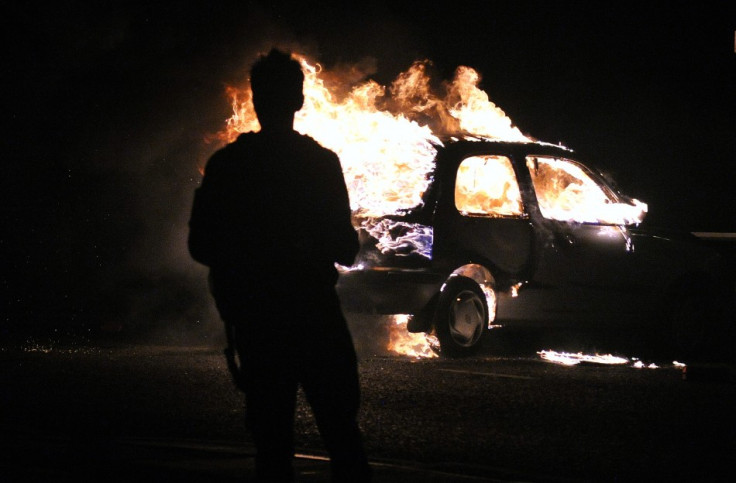 10 appeals against the sentences handed to people during the rioting and looting across England in August will be heard at the Court of Appeal today, including appeals by two men who were jailed for four years for setting up Facebook pages inciting others to riot.
Three judges will also decide if the sentences for other crimes such as burglary and violent disorder were too excessive.
More than 1,700 people accused over the riots have gone before the courts, with 300 sentences been handed down so far.
Police are still hunting for other alleged participants in the rioting and looting in London and other cities including Birmingham, Manchester and Nottingham
The ten cases which are due to be heard today are:
Jordan Blackshaw, 20, of Northwich, Cheshire, and Perry Sutcliffe-Keenan, 22, of Warrington, Cheshire, who were jailed after pleading guilty to encouraging a riot on Facebook.
Michael Gillespie-Doyle, 18, from Openshaw, Manchester, admitted burglary and sentenced to two years in a young offenders institution.
Chef Enrico Vanasco, 25, jailed for 20 months after admitting burglary relating to a £300 camera.
Hassan Halloway, 39, of Bennett Street, Crumpsall, who was jailed for four years and eight months after admitting burglary charges and violent disorder.
Territorial Army soldier Lorraine McGrane, 19, from Peckham, south-east London, jailed for 13 months after admitting stealing a television.
Coach driver David Beswick, 31, of Anson Street, Eccles, jailed for 18 months for handling stolen goods.
Stephen Carter, 26, of James Street, Salford, Greater Manchester, who was caught with a bag of clothes and shoes worth £500 and jailed for 16 months for theft by finding.
Stephen Craven, 25, of Salford, jailed for 12 months after pleading guilty to handling stolen goods.
Hasan Koyuncu, sentenced at London's Wood Green Crown Court to 12 months in a young offenders institution for burglary.