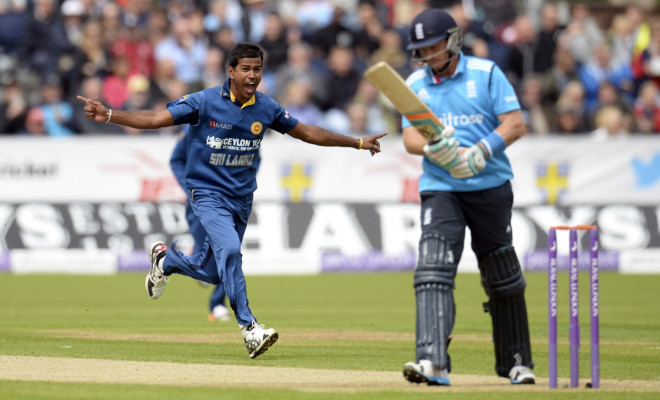 England have collapsed at the hands of Sri Lanka in the second ODI of the series between the sides, going all out for 99 as the visitors won by 157 runs.
After winning the first ODI England looked the favourites at Chester-le-Street, Durham, on Sunday but it just wasn't their day as only Eoin Morgan (40) and Ian Bell (12) posted double figures in the batting stakes.
Sri Lanka reached 50 overs with 256-8, setting up a tough battle for England and within two hours the side were all out, with Sachithra Senanayake taking four wickets and Nuwan Kulasekara also taking advantage of England's top order collapse with the game all but over when they stood at 29-4.
"I cannot explain it," Eoin Morgan, who captained the side for the day said after what could only be described as a dismal batting performance by England. He also admitted it was "especially disappointing that we didn't perform in conditions that are ideal for us."
Ian Bell added: "No excuses at all, it played a lot better than 99 all out - it was really poor and we've got to find some answers for the next game. We want to be positive to run as hard as we can and play proper cricket shots in that first 10 overs."
Man of the match was Tillakaratne Dilshan, who scored 88 runs before being bowled out by Chris Jordan, and he insisted that the conditions of the day favoured the bowlers.
"The conditions suited the bowlers - especially in the first 10-15 overs when it seamed around and they bowled really well," he told BBC Sport. "After a few overs we knew 230-240 would be a good score. The main target was to bat long partnerships and I think it worked."
The series are now levelled at 1-1 with three games to play. England were without Alastair Cook who is recovering from a groin strain, but Morgan insisted at the start of the day that he could be back in action in the coming days.
"He's got a little bit of groin strain, not too much of a worry, hopefully we'll reassess in Manchester [for the third match on Wednesday] and he'll be fit," he explained. "[His replacement] Michael Carberry really impressed in the winter and has gone back into county cricket and scored a lot of runs, so it's a good opportunity for him today."
But Carberry was caught out by Sangakkara after making just six runs, leaving many to hope that Cook can make a comeback in time for the third match between the sides, which takes place at Old Trafford on Wednesday.