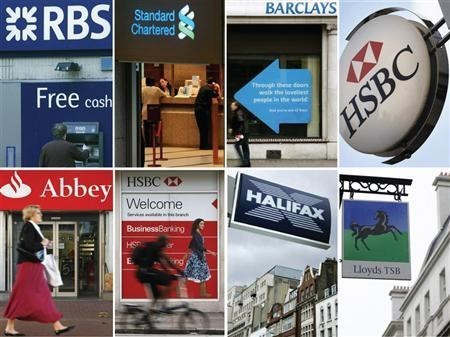 Bank lending to businesses in the UK is projected to rise for the first time in four years in 2013 with declining bad debts and loan-loss provisions at banks, according to forecasting group Ernst & Young Item Club.
The group predicts that bank lending will increase by 3% to £440bn ($681bn, €522bn) in 2013, after a fall of 5% in 2012. By 2014, business lending is projected to increase by 8.5%.
"Although the banking sector is not yet in a position to contribute to economic growth, we expect it to act as much less of a brake on the UK economy in 2013 than in the past five years," Item Club said in its spring outlook for financial services.
The rise in business lending is primarily due to banks' better access to wholesale funding and a decline in non-performing loans, according to the forecasting group. Bad debts write-offs are expected to decline to £9.3bn, just 0.56% of all borrowing this year, after peaking in 2012 at £11.6bn.
Bank lending will be boosted by the Funding for Lending Scheme (FLS), which the government has decided to extend by another year to 2015, the group said. The FLS, launched by the Bank of England last year allowed banks and building societies to lend more cheaply.
In the short term, banks will face pressures from rising regulatory costs and deleveraging and cost-cutting requirements. However, banks are expected to support stronger growth in both corporate and consumer spending from 2014 in line with the general pick up in the economy.
However, Item Club warned that even minor changes to the UK benchmark interest rate could push many companies into bankruptcy. The Bank of England has been keeping interest rates at a record low of 0.5% for four years, helping businesses and home owners stay solvent.