Ethiopian runner Feyisa Lilesa made a simple gesture as he crossed the finish line of the men's marathon on Sunday (21 August), at the closing day of the Olympic Games in Rio de Janeiro. But Lilesa's crossed arms above his head could have potentially deadly consequences for him back in Ethiopia.
In a news conference, the silver medal winner told reporters that the gesture was a sign of protest against the Ethiopian government, USA Today reported. The X gesture has been used by the Oromo people who are protesting the Ethiopian government for expanding the limits of capital Addis Ababa into their surrounding towns and villages.
"The Ethiopian government are killing the Oromo people and taking their land and resources so the Oromo people are protesting and I support the protest as I am Oromo," Lilesa said.
"The Ethiopian government is killing my people so I stand with all protests anywhere as Oromo is my tribe. My relatives are in prison and if they talk about democratic rights they are killed. I raised my hands to support with the Oromo protest."
According to The Associated Press (AP), dozens of people were shot dead in recent weeks by Ethiopian security forces, who were cracking down on protesters. Amnesty International claimed 67 people were shot and killed in the Oromia region.
Since November 2015, Human Rights Watch has the death toll at an estimated 400 people. Thousands more have reportedly been injured by government forces for participating in the Oromo protests.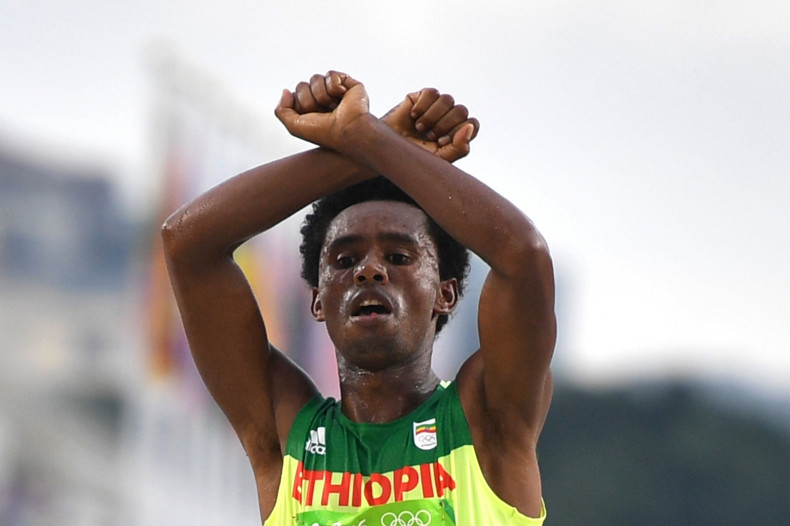 Lilesa told the media he fears for his life if he decides to return to Ethiopia. "If I go back to Ethiopia maybe they will kill me. If not kill me, they will put me in prison. I have not decided yet, but maybe I will move to another country."
The Ethiopian runner, however, did not seem to fear whatever sanctions he may face from the International Olympic Committee (IOC), which bans athletes from making political statements at the Games.
"I cannot do anything about that," he said. "This was my feeling. I have a big problem in my country, it is very dangerous to make protest in my country."