Brazilian police are expanding their investigation into the alleged illegal sale of tickets for the Olympic Games in Rio. Three Olympic Council of Ireland (OCI) officials had their passports, phones and laptops seized by authorities in a raid of the delegations' offices, based at the Olympic village, on Sunday (21 August).
The OCI later confirmed that no arrests had been made, but the three accused agreed to go to police stations in Rio for questioning on Tuesday (23 August), according to Sky News.
The officials were identified as Kevin Kilty, Dermot Henihan and Stephen Martin by ABC. Police also seized unused tickets that were part of the OCI's allocation for Irish athletes' families.
"We are continuing the investigation into the international scheme of ticket scalping," Rio police said, according to CBC. "Agents are conducting investigations since this morning which will continue until Tuesday." The first arrests in the investigation were made two weeks ago.
In a separate statement, a Brazilian judge announced an order to seize the passports of OCI interim president Willie O'Brien, personal assistant to the presidency Linda O'Reilly and OCI vice president John Delaney.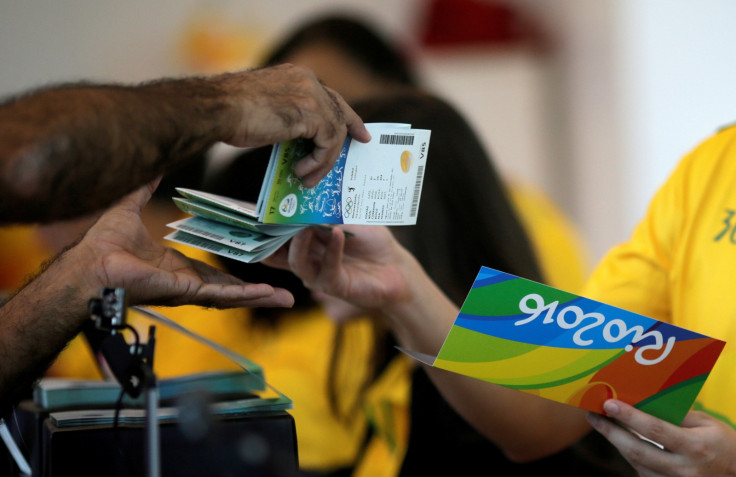 The raid comes on the heels of the arrest of OCI president and International Olympic Committee (IOC) executive Patrick Hickey. Police accuse Hickey of scaling official Games tickets at inflated prices in a scam involving Ireland's official Games ticket re seller, Dublin-based PRO10 Sports Management, plus international sports hospitality company, THG Sports.
According to ABC, PRO10 and THG Sports have denied any wrongdoing. THG Sports director Kevin Mallon was arrested earlier in August in Brazil.
Hickey was arrested on Thursday (18 August) at a hotel in the Barra da Tijuca area of Rio. According to Sky News, the 71-year-old was taken to a Samaritans hospital due to chest pains where he underwent cardiac tests.
Hickey was later discharged from the hospital before being taken to a police station for questioning. He has been accused of ticket touting, running a cartel and illicit marketing. However, The Olympic official denies any wrongdoing and remains in Rio's Bangu prison complex after failing to secure his release on bail.
"Mr Hickey has been arrested due to suppositions that are not supported by any material evidence or proof of the alleged facts presented by the police," Hickey's attorney, Arthur Lavigne, said in a statement.
"His arrest has no legal support. The investigation did not bring one single slight indication that Mr Hickey could be involved with the facts therein investigated, and his detention was required by the police authority under mere assumptions," Lavigne continued.
Sky News reported that a judge is set to be appointed this week to head an independent inquiry in Ireland into the alleged ticket scandal.