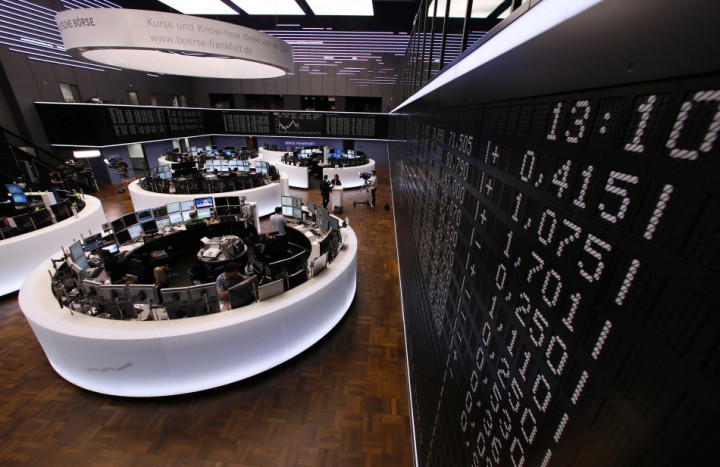 European markets opened flat after an upbeat handover from Asia in spite of positive news that EU finance ministers had agreed on who should be responsible for rescuing or shuttering struggling banks.
Europe's FTSEUROFIRST 300 fell 0.1% to 1,148.84 points in early deals.
Britain's FTSE 100 and Germany's DAX rose 0.1% in early deals. Italy's FTSE MIB opened 0.3% higher.
France's CAC 40 opend 0.2% lower, while Spain's IBEX opened flat.
In Luxembourg, finance ministers from the EU agreed that first shareholders, then bondholders and then depositors with more than €100,000 ($132,000) should share the burden if and when the bank they deposit with collapses.
The deal is "a major shift from the public means, from the taxpayer if you will, back to the financial sector which will now become for a very, very large extent, responsible for dealing with its own problems," Dutch Finance Minister Jeroen Dijsselbloem told CNBC.
Elsewhere, European Central Bank (ECB) President Mario Draghi reiterated the central bank's position on helping struggling eurozone economies.
"The ECB has been very active in responding to the crisis," Draghi told committees in the French lower house of parliament.
He added that the ECB is ready to act again when needed. "The ECB has done as much as it can to stabilise markets and support the economy...Now governments and parliaments need to do all they can to raise growth potential. Monetary policy cannot create real economic growth."
In the UK, investors will be tracking quarterly GDP growth numbers, forecast to remain unchanged at 0.3%. The UK will also publish current account data, alongside quarterly business investment data that measures the change in the total inflation-adjusted value of capital expenditure made by companies in the private sector.
Government data from Denmark showed that the country's unemployment rate dipped to 4.40% in May, from 4.50% previously. Germany too will release unemployment data, while the US puts out initial and continuing jobless claims data later on Thursday.
In company news, pub operator and brewer Greene King said pre-tax profits rose 6.6% to £162.0m during the year ended 28 April 2013, while total revenues rose 4.8% to £1,194.7m during the same period.
British internet gambling platform operator Betfair Group and investment group Schroder UK Growth Fund will release full year earnings.
Germany's largest cable operator Kabel Deutschland, to be acquired by the UK's Vodafone Group; the National Bank of Greece and Russian oil firms Lukoil and TNK-BP will all put out full year results today.
In Asia, the Japanese Nikkei ended 2.96% higher. South Korea's Kospi finished 2.87% higher while Australia's S&P/ASX closed 1.68% higher.
Earlier in Asia, markets posted gains after a rally on Wall Street, supported by the prospect that the US Federal Reserve would extend its monetary stimulus and by Chinese data that showed industrial profits rose sharply in May.
The Bank of Korea said strong exports pushed South Korea's current account surplus to a record high in May, underpinning the fact that the country's fundamentals remain relatively sound despite a global slowdown in economic activity.
Chinese government data showed that profits in major Chinese industrial firms rose 15.5% in May from a year ago.
Markets in mainland China were also supported by signs that the country's cash crunch was easing. China's central had bank said it would lend a helping hand to the country's liquidity-starved banking sector by "guiding market interest rates to reasonable levels". The People's Bank of China's intervention would help resolve the tight liquidity situation in the country's financial system sooner than expected.
In Australia, Prime Minister Julia Gillard will resign after losing the support of her party's lawmakers to former leader Kevin Rudd. The move came after Gillard lost a leadership ballot against Rudd 57 to 45 at a closed-door meeting on 26 June.
Wall Street Up
On Wall Street, indices ended higher on 26 June after a downward revision in American economic growth pacified fears about an early tapering of US monetary policy. Government data showed that America's gross domestic product (GDP) expanded 1.8% between January and March, 2013, down from the previous estimate of 2.4%.
The Dow ended 1% higher at 14,910.14. The S&P 500 closed 1% higher at 1,603.26, while the Nasdaq Composite index finished or 0.9% higher at 3,376.22.
Economic data from the US shows the world's leading economy is improving. The US may be ready for a cutback in quantitative easing (QE) but the rest of the world is not, opine Pimco boss William H Gross and British journalist Matthew Lynn.