1550 BST: Down into the close
A big decline across the board for European shares today, including a near 4 percent tumble for Italy's FTSE MIB and a 2.2 percent fall for the DAX. The FTSE 100 looks set to fall around 150 points, or 1.4 percent.
Tuesday's session is likely to be similar, as there is little data outside of the UK that could ostensibly drive direction. We will, however, have more detail from the economic fallout in Spain when Economy Minister Luis De Guindos speaks about the bank rescue package to parliament later in the afternoon. Here in Britain, we'll get figures on the Public Sector Borrowing Requirement for May.
1535 BST: Bonds follow stocks
Italian 10-year bond yields have spiked shaprly, rising past 6 percent this afternoon after the ECB confirmed it had not made any bond purchases in the market last week and Italian banking shares fell hard in Milan this afternoon.
1455 BST: Italian stocks
Are outpacing losses all around Europe this morning with a 3.35 percent decline for the FTSE MIB. Several of the indices major banking share are in free-fall, including Banca Monte dei Paschi di Siena (9.4 precent), Intesa Sanpaolo SpA (125 percent) and UniCredit (5.96 percent).
1445 BST: US shares falling hard
The Dow has given back around 150 points in the first 15 mintues of trading, taking US stocks sharply lower and rippling into the European markets. Traders are suggesting news of a potential downgrade for Spanish banks my Moody's Investors Service is contriubting to the quick declines.
1435 BST: No buying
In a rather surprising post from the European Central Bank Monday, we've learned that no purchases have been made by the Bank's Securities Markets Programme (SMP) last week. This will challenge a good portion of the market's belief that the huge improvement in Spanish and Italian bond yields last week was the result of a big bid from the ECB. The SMP's outstanding holdings remain cemented at €210.5bn, as they have for the past three months.
1430 BST: North American open
US and Canadian shares are following Europe into the red at the start of trading in New York and Tornoto. The TSX Composite is down 15.71 points to 12,576.83.
In the US, we're seeing 7.94 points shaved from the S&P 500 and 63.88 points from the Dow Jones Industrial Average
1420 BST: Vote of confidence
A Reuters poll of money market traders suggest last week's easing of collateral rules for ECB lending will ease some of the existing pressures in inter-bank lending markets. Sixteen of the 26 polled said the rule changes would make it easier for banks to find funding, ten said it would have no impact and three saying it would be "highly ineffective".
1400 BST: Managing expectations
Following hoty on the heels of some blunt comments from Finance Minister Wolfgang Schaeuble, German Chancellor Angela Merkel tells reporters in Berlin that she's concerend that too much foucs on this week's Summit will be placed on mutual liability for EU states - a condition she considers both "politically and economically" wrong.
1320 BST: Greece's Prime Minister leaves hospital
Prime Minister Antonis Samaras has left hospital in Athens after several days of surgery and procedures to repair a detached retina. Moderate Democratic Left leader Fotis Kouvelis told reporters in Athens today that the coalition will travel to Brussels to begin renegotiations of the current €240bn bailout after Prime Minister Samaras recovers.
They may find they have some time to wait: German government spokesperson Steffen Seibert said Monday that this week's Leaders' Summit will not make any concrete proposals towards changing terms of the current Greek package and that no decisions can be taken until the so-called Troika lenders (the EU, the ECB and the IMF) travels to Athens to administer a fully audited progress report.
Further cold water on a re-designed bailout was poured by German Finance Minister Wolfgang Schaeuble, who told the Bild am Sonntag newspaper that Greece needed to "enact the programme agreed upon quickly and without further asking how much more others can do for (it)".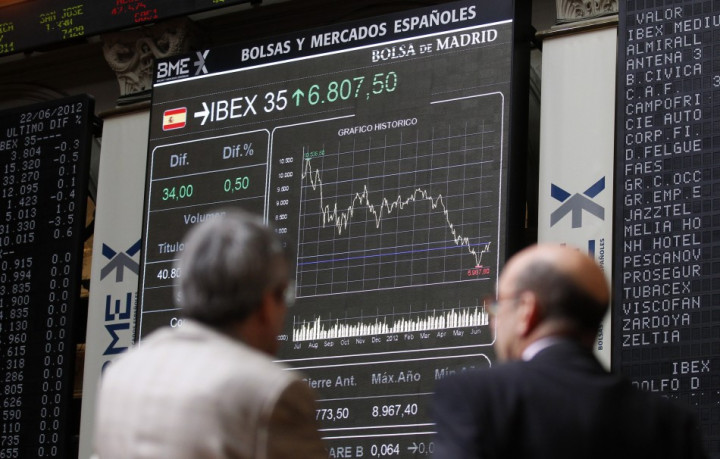 1255 BST: Spanish bank downgrade?
Retuers is reporting that Moody's is preparing to downgrade sevearl banks in the Spanish market "within hours". The news agency cites "financial sources". The last time we saw a similar report like this we had a big move the ratings of global investment banks by Moody's that very same day.
Moody's last moved on Spain's banks on 17 March, saying at the time:
Where our ratings for Spanish banks do not remain on review, they carry negative outlooks. These outlooks and reviews reflect our expectation that banks will continue to face highly adverse operating and market funding conditions that pose a threat to their standalone credit profiles. The negative outlooks on debt and deposit ratings reflect in some cases the combination of negative outlooks on a bank's standalone credit profile and in some cases our view on government support, as the government's debt ratings of A3 also has a negative outlook. Several bank ratings remain on review, as some banks are merging and we continue to assess the impact of these transactions on the rated entities' credit profiles. Other banks remain on review for reasons specific to those banks.
1240 BST: Rate cut call
Societe Generale economist James Nixon is predicting a cut in the European Central Bank's key lending rate of as much as 50 basis points next week after several media interviews from various ECB Governing Council members, the change in tone at this month's press conference by President Mario Draghi and the move last week to loosen lending collateral standards on certain asset-backed securities.
Nevertheless, the ECB has grown increasingly concerned in recent months that the failure of the monetary transmission mechanism is one of the factors exacerbating the euro area's problems at the moment. Friday's loosening of collateral standards for ABS suggests the ECB is moving to address this. On the justover €1tn of lending to euro area credit institutions, a50bp rate cut would yield €5bn saved on an annualised basis. This is a relatively modest amount but will clearly help banks build up their capital position. Beyond that, it remains to be seen whether the prospect of a zero return is actually sufficient to offset the counter-party risk and encourage the revival in interbank lending that the ECB desires.
1230 BST: Risk off
The FTSE Eurofirst 300 has fallen more than a full percent today, extending its decline to 1.3 percent (989.38) while the Euro continues to test two-week lows at $1.24713 against the Greenback and September German bund futures are now printing session highs of 142.12 - up more than 100 ticks on the day.
1140 BST: Euro dips
The single currency is taking a bit of a smacking this morning and has slipped back under 1.25 against the dollar. You get the sense of disappointment with respect to Spain (and the EU's) decision to wait until after the Leaders' Summit to detail the capital needs of the bank rescue.
"I am confident that we can conclude an agreement on the memorandum of understanding in a matter of weeks, so that we can proceed with the restructuring effort," said EU Economic Monetary Affairs Commisioner Ollie Rehn said in a statement. "The policy conditionality of the financial assistance, in the form of an EFSF/ESM (bailout funds) loan, will be focused on specific reforms targeting the financial sector, including restructuring plans which must fully comply with EU state-aid rules."
1110 BST: Quiet weakening
European headline flow has been very quiet this morning as stocks drift lower on the samer broader "risk off" theme that tends to define days without a lot of political events.
Interestingly, however, we're seeing more movement in the market for credit default swaps on peripheral government debt - particularly Italy and Spain. Five year CDS contracts for Italy are 15 basis points higher at 517 basis points while Spain's costs have increased 10 basis points to 575 basis points.
0940 BST: Spain makes formal request
Spain's Economy Ministry said Monday that the formal request for funds from the EU has been filed in a letter to Eurogroup Chairman Jean-Claude Juncker. The exact amount will not be known until a Memorandum of Understanding is signed between the two parties on 9 July.
0900 BST: Dollar strength
The US dollar index, a measure of the greenback against a weighted basket of currencies, is trading at a two-week high of 82.585 as we see persistent weakness in both the Euro and Sterling as investors bet on more extraordinary measures from central banks in London and Frankfurt.
0825 BST: Bonds look
A quick look at bond yields shows a marked improvement across the European peripherals and some modest weakening at the core - suggesting investors might be front-running the idea of direct purchases from the European Central Bank.
Italy's benchmark 10-year bond are trading at 5.85 percent while Spain's are marked at around 6.40 percent. German bunds have backed up a few basis points to 1.53 percent. Given Spain's preparations for a formal request for funds today for its banking system - and despite the fact that it's still unwilling to put a specific figure on the amount needed until next month - the improvement in Spanish bond yields is puzzling.
0805 BST: Opening dip
European shares fall modestly at the open with the FTSE 100 down 0.2 precent in the first few moments of trading. France's CAC-40 is off 0.6 percent, Spain's IBEX down 0.4 percent and Italy's FTSE MIB off around 0.2 percent. The DAX is off 0.7 percent.
0750 BST: Good Morning
Investors might be feeling a bit of "Summit fatigue" but this week's meeting of European leaders in Brussels is nonetheless going to dictate terms for market direction over the summer months. Overnight in Asia, shares drifted lower and the Euro touched a two-week low against the US dollar ahead of the crucial meeting and a series of testing debt auctions from Spain and Italy later this week.
European shares are called modestly lower at the open with financial bookmakers looking for 3 to 5 points slips at the opening bell. German bund futures for September delivery opened 11 ticks higher at 140.99 while the Euro traded extended its decline from overnight to trade at 1.2510.
The calendar is light on economic data for the session but we'll get a measure of German retail sales at 0800 BST and consumer confidence about thirty minutes later.