Euro Extends Losses on Weak German Data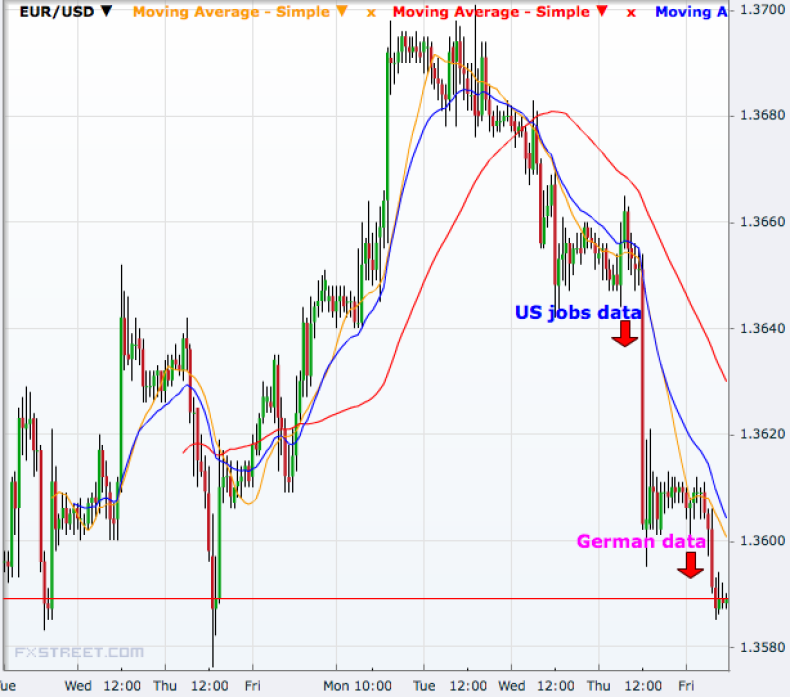 German data points in the week to 4 July all surprised on the downside, and Friday's factory orders data added to the losses the euro suffered after the US jobs data on Thursday.
EUR/USD fell to a low of 1.3595, a more than one-week low, from the previous close of 1.3610. The pair had fallen 0.35% on 3 July as the US added more non-farm jobs in June than markets had been expecting.
EUR/USD had risen to a 40-day high of 1.3701 on 1 July and at the low on Friday, it is down about 0.8% from there.
Factory orders growth slowed to 5.5% year-on-year in May from 6.3% in April, data showed at 6:00 GMT.
The final Markit survey for June published on 3 July showed the services PMI at 54.6 from 56.0 in May and lower than the market consensus of 54.8. The manufacturing PMI had come in at 52.0 from 52.4 in the previous month, the survey result on 1 July had showed.
The number of unemployed Germans increased by 9000 in June, data showed on Tuesday against the market consensus of a decrease of 10,000.
The May retail sales numbers out on 30 June were also surprises on the lower side. The year-on-year growth slowed to 1.9% from 3.2% in April when the market forecast was a more moderate slowing to 2.1%. Month-on-month, sales had fallen 0.6% against the street forecast of 0.7% increase.
The market is now watching the out for the industrial output, trade and inflation numbers from Germany, scheduled for the next week.
May industrial production data will be out on 7 July Monday and trade balance on Tuesday. The June consumer price inflation numbers will be released on Friday, 11 July.