Euro Falls to 10-year Low against Yen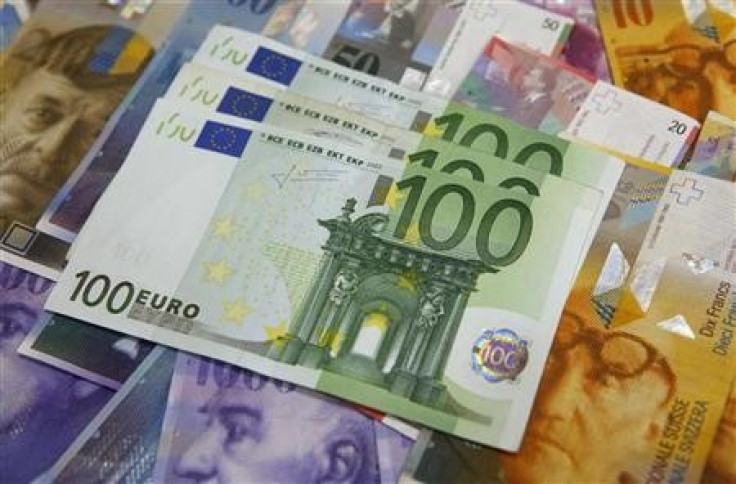 (Reuters) - The euro hit a 10-year low versus the yen and fell against the dollar on Friday, ending the year on a weak note after breaking below key support levels, and it looked set to remain under pressure in 2012 from Europe's debt crisis.
The single currency was down 0.2 percent versus the dollar at $1.2932 in thin trade.
Helped by investors squaring positions before year-end, it recouped some losses from Thursday, when it sank to a 15-month low of $1.2858 as high yields at an Italian bond auction prompted euro selling.
Market players said Friday's fall was exacerbated by a lack of liquidity but with the euro having broken decisively below $1.30 earlier in the week this level would act as resistance to any rebound.
It also lost around 0.5 percent against the Japanese yen to hit a decade low of 99.963 yen on the EBS trading platform, breaking below an options barrier at 100.00 yen.
"The euro has held up relatively well given the crisis we've seen, but that view is likely to come under pressure in the new year," said Simon Smith, economist at FXPro.
"There is huge focus on what's going on in Europe. Next year is likely to be the year when either euro zone leaders send the region on a path towards greater fiscal integration or we see some of the more vulnerable countries having to leave."
Currency movements on Friday were expected to be driven by year-end flows, though analysts said investors would look at Spanish government savings measures, set to be announced later, for signs of how Madrid plans to cut its deficit.
Traders said falls in the euro versus the yen were partly driven by the dollar extending losses against the Japanese currency after triggering stop loss orders on the break below 77.50 yen. It was last at 77.40 yen.
The dollar index .DXY was at 80.362, off a near one-year peak of 80.854 hit on Thursday.
2010 EURO LOWS EYED
This year the euro has lost more than 3 percent versus the dollar, adding to a 6.6 percent decline in 2010. It has also lost almost 8 percent against the yen.
Some analysts said the currency could drop as low as $1.20 by the end of 2012 in the absence of a comprehensive policy response to the crisis, potentially moving towards its 2010 low of $1.1876.
Italy, the euro zone's third-largest economy, remains at the centre of the debt crisis that began in Greece two years ago, and its borrowing needs could overwhelm the bloc's financial defenses if it were forced to seek an international bailout.
Ten-year Italian yields are above the 7 percent level seen as unsustainable, with the country needing to raise 450 billion euros in debt markets in 2012. Government issuance of new euro zone debt will be scrutinized for any sign investors are shunning the currency bloc.
"If the euro is going to be salvaged the market needs an injection of faith over the next few weeks. The Italian and Spanish auctions are key," said Neil Mellor, currency strategist at Bank of New York Mellon.
Analysts expect euro zone funding pressures to intensify in early 2012, with 230 billion euros of bank bonds, up to 300 billion euros in government bonds, and more than 200 billion euros in collateralized debt maturing in the first quarter.
Last week the ECB provided banks with almost half a trillion euros in three-year loans at low rates to encourage lending. Some policymakers have urged banks to use the funds to buy Italian and Spanish sovereign debt.
But the latest ECB data suggested banks were hoarding the cash, with 445 billion euros being deposited in the central bank's overnight facility, up from 436 billion euros the previous day.
The Australian dollar rose 0.3 percent to $1.0171, shrugging off HSBC China PMI data that showed Chinese factory activity had shrunk again in December.
© Copyright IBTimes 2023. All rights reserved.