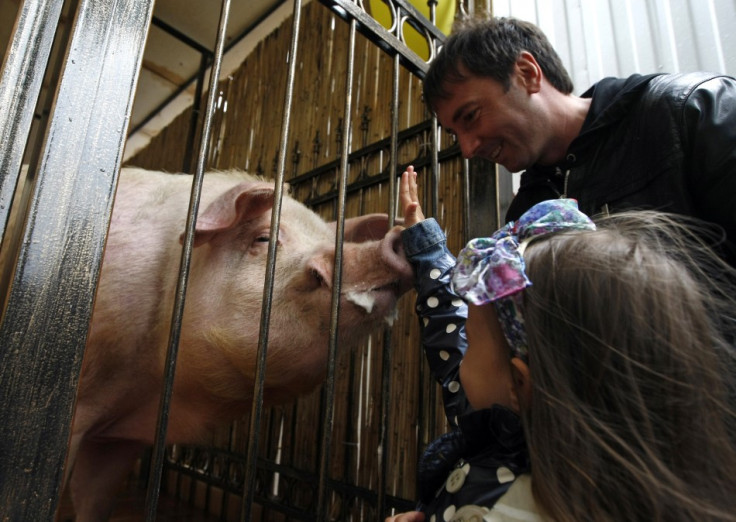 If you can't wait to find out who will win the 2012 European Championships, then ask these amazing animal oracles!
The whole idea of animal oracles started back in 2010, during the FIFA World Cup, when Paul the Octopus gained worldwide fame after correctly predicting the outcomes of all of Germany's games and also the final of the tournament. Unfortunately, Paul is no more, having died later that year, in October.
So who will you rely on for inside tips on betting for the 2012 Euro final, between defending champions Spain and 2006 FIFA World Cup winners Italy?
In an earlier IBTimes UK report, we pointed you in the direction of several of these animal oracles... some have proven to be successful and some others not so very successful. The list included Funtik - a pig in Ukraine; Citta - an elephant; and Big Huat - a fish in Singapore. So who is saying what now?
Predictions:
Citta, an Indian elephant in Poland, correctly predicted Italy would beat Germany in their semi final. She must have immense trust in the Azzurri, for she has once again picked Cesare Prandelli's side and declared that Italy will win the 2012 Euros.
Otter the ferret, was a little more cautious, taking a long sniff of each flag. However, he too plumped for the Italians.
Meanwhile, Lin Ping, a panda at the Chiang Mai Zoo in Thailand, is a bit of a veteran. According to the zoo, Ping, in 2010, correctly predicted Spain would win the World Cup and it seems she's sticking with her favourites for this one, having called them all the way to the final. However, she did get one thing wrong this year. She predicted Germany would make the final, rather than Italy.
It hasn't all be correctly called though. A llama from East Sussex, called Nicholas, probably feels rather foolish now - he predicted an English triumph at the Euros! Manchester United's Ashley Young and Chelsea's Ashley Cole owe him, we think, an apology!
We must note, however, that Paul the Octopus' success rate is still absolutely unmatched.
"As far as we are concerned, none have the form of Paul the Octopus," Joe Crilly, a spokesman for British bookmaker William Hill told the Star Tribune earlier, "And with so many to follow, there are undoubtedly going to be a few who get it wrong."
Prediction Stress
However, there is a side effect to all of these fun and games. Animal rights groups are becoming increasingly vocal about what they see are sustained and unnecessary abuse of an animal's dignity. Indeed, local reports from Singapore suggest Big Huat suffered a "bad case of nerves" during his first pick earlier in June and has been scared and stressed by camera flashes from reporters and photographers.
Meanwhile, the Guardian quotes Deutscher Tierschutzbund (TSB), a German activist group, as saying these fads are forcing animals to behave in unnatural ways.
"There's hardly an animal that's not being used as a prophet. From pigs and parrots to hamsters to dogs, everyone's at it. We've got elephants kicking balls into nets or forced to do handstands; chimpanzees dressed up and paraded on TV. In many cases the dignity of the animals is being completely ignored, and they're being forced to do things that are totally unnatural to them and in some cases are causing them to suffer," said Marius Tünte of the TSB to to the Guardian.