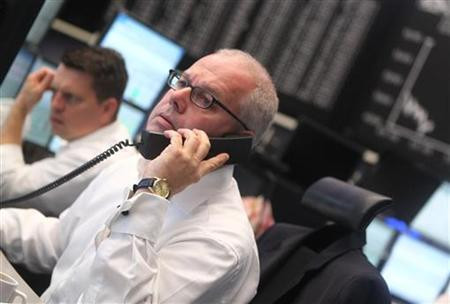 European stocks edged higher in the opening minutes of trade as better-than-expected US corporate earnings boosted global economic optimism.
The UK's FTSE 100 gained 0.3 percent while Spain's IBEX, France's CAC-40 and Italy's FTSE MIB added 0.2 percent each. Germany's DAX was up 0.1 percent. The FTSEurofirst 300 index covering the region's top shares remained little changed at 1,165.72.
The single currency traded at about $ 1.33.
US Corporate earnings continued to remain in focus after technology heavyweights Google and IBM reported improved fourth-quarter results. The world's largest search engine reported that its net income excluding traffic acquisition expenses increased to $9.83bn (£6.21bn; €7.39bn) from $8.13bn a year earlier, beating a Reuters estimate of $9.6bn. The world's largest technology service firm, IBM, also posted figures that beat estimates.
Another tech major, Apple, is set to release its earnings report later in the day. The company's performance prospects had come into focus recently following a report from Japanese business daily Nikkei that it had cut component orders for its latest iPhone.
Traders are also awaiting the US House of Representatives' vote for a three-month extension on the country's debt-ceiling. Analysts suggest that if the move is passed, it will remove short-term market concerns on the matter, but if lawmakers fail to take any action the Treasury could encounter a fiscal crisis by late February or early March.
Asian markets had ended mixed earlier, with Japanese stocks dropping as the yen picked up against the dollar after Bank of Japan's aggressive stimulus measures.
The Nikkei average ended 2.08 percent lower to 10486.99 while South Korea's was down 0.81 percent to 1980.41. Australia's S&P/ASX 200 added 0.18 percent to 4787.80
In China, the Shanghai Composite Index was up 0.25 percent to 2320.91. Hong Kong's Hang Seng traded 0.19 percent lower to 23614.92 towards close.
Japanese investor sentiments remained weak as the yen strengthened against the dollar after Bank of Japan doubled its inflation targets and adopted an open-ended Asset Purchase Programme (APP). The greenback traded at ¥88.20, slipping from the ¥90.25 mark touched earlier this week before the central bank's decision.
Although the stimulus move came after wide speculation on BoJ's policy stand, analysts remained unconvinced on its effectiveness. Yujiro Goto, strategist at Nomura Research in Tokyo noted that the decision was weaker than expected.
"Even though the BOJ emphasized open-ended asset purchases starting from 2014, the pace of the APP expansion will be much slower in 2014 than in 2013," Goto said.
"The APP expansion in 2014 will not involve any risky asset accumulation as well".
Meanwhile, Prime Minister David Cameron is delivering a speech on the direction of UK's relationship with the European Union during the day. Extracts of his speech released earlier had shown that the PM will promise a referendum on the country's role in the bloc after 2015, saying that it is time to "settle this European question in British politics".
Bank of England (BoE) chief Mervyn King, in a speech delivered yesterday said that UK needs more reforms to support economic recovery, noting that growth remained much weaker than expected. King's European counterpart Mario Draghi's speech on the same day was a tad more positive, as he noted that the worst was over for the region.