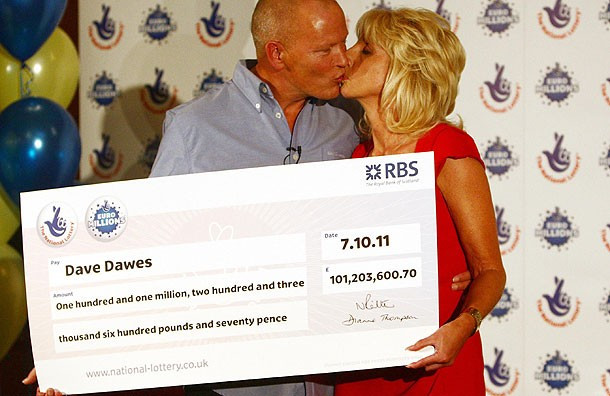 A couple from Cambridgeshire have been revealed as the winners of the £101m Euromillions - the third biggest lottery jackpot in UK history.
Dave and Angela Dawes from Wisbech came forward as the only winners of the jackpot in Friday's draw, winning a grand total of £101,203,600.70.
Mr Dawes, 47, is a shift supervisor for Premier Foods and his wife is a volunteer for the British Heart Foundation.
"We were watching TV and the Euromillions draw show came on so we kept watching, not thinking we would win anything," said Mr Dawes in a press conference.
"We got our tickets out and watched in shock as, one by one, the numbers came up on the line I'd chosen.
"We couldn't believe it. It was too late to call Camelot so I kept the ticket on me all night until the morning but we didn't sleep a wink."
Amongst the items the couple are planning to buy with the winnings include a Chelsea season ticket for Mr Dawes and a new house in the Chelsea area. The couple have also said they will give a million pounds each to family members and close friends.
The couple, who have been together for four years, said they would continue with their original plan to get married in Portugal next year.
It was only the third time the couple have ever played the lottery. They have now vowed they will never buy a lottery ticket again.
The win has meant the couple are already the 703rd richest people in the UK, overtaking David Bowie, Sharon and Ozzy Osbourne and Gwyneth Paltrow and Chris Martin, according to the Sunday Times Rich List 2011.
The winning numbers were 18, 26, 34, 38 and 42. The Lucky Star numbers were 8 and 5. The ticket was bought at WH Smith on the Market Place in Wisbech.
Warning: This article is being used to try and scam people via email and we are looking into the situation. If you have received an email asking for your bank details, please ignore.