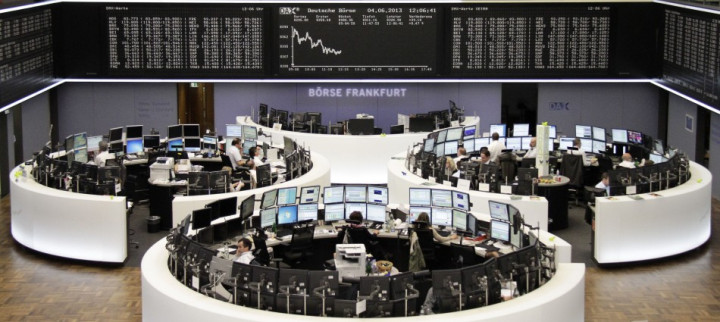 European markets opened lower on Monday and overturned Friday's gains after better-than-expected US jobs data, following a lack of economic indicators.
Some Asian markets remained closed for a public holiday.
Europe's FTSE Eurofirst 300 fell 0.1% to 1,193.08 points in early deals. Both Britain's FTSE 100 and France's CAC 40 lost 0.3% in opening trade.
Spain's IBEX opened flat, while both Italy's FTSE MIB and Germany's DAX were down 0.1% in opening trade.
Equities had closed higher on 7 June after American jobs data pointed to slow-moving growth in the world's leading economy.
In Europe, investors will be tracking Italian and French industrial output data due today. Denmark will put out annual CPI and trade balance data, while Switzerland will release its annual retail sales figures. The Swiss jobless rate dropped to a non-seasonally adjusted 3% in May from 3.1% in April.
Norway puts out monthly core inflation data and CPI data, alongside annual PPI figures. In the UK, investors will be following the RICS Housing Price Balance.
German Chancellor Angela Merkel, while praising EU economies for their handling of the crisis, urged members of the 27-nation bloc to continue with their structural reforms over the weekend. Germany's economic health hinges on the EU's economic health, she said.
French President Francois Hollande told a Japanese audience in Tokyo the eurozone crisis is over. The eurozone's economy has shrunk for six quarters in a row and unemployment has hit a record 12.2%.
In Asia, the Nikkei closed 4.71% higher while South Korea's Kospi ended 1.35% lower. The mainland Chinese and Australian markets were closed for a public holiday.
Earlier in Asia, markets inched up in opening trade on Monday as the Japanese Nikkei surged, driven by better-than-expected figures from the US and Japan.
The Nikkei was boosted by revised growth data ahead of the opening of the market that showed the country's economy grew 4.1% in the January-March quarter, better than the earlier estimate of 3.5%. GDP rose 1% in the first three months of 2013, better than the preliminary estimate of 0.9%.
The Hang Seng was pulled down in the morning by weak Chinese economic data. Consumer inflation in the world's second largest economy slowed down to 2.1%, a three-month low, while producer prices dropped to 2.9%, the lowest since September 2012.
South Korea's Kospi was down earlier in the day in cautious trade ahead of government talks between North and South Korea. The two nations are to discuss deteriorating ties alongside the re-opening of the Kaesong industrial complex, which closed down earlier this year.
On 7 June, Wall Street equities posted their first weekly gains in three straight trading sessions after government data showed US firms added 175,000 jobs in May on top of 149,000 jobs in April. The Dow shot up 1.38% to end at 15,248.12. The SP 500 gained 1.28% to 1,643.38 while the Nasdaq Composite added 1.32% to close at 3,469.22.
The Federal Reserve is seen on track to trim stimulus following better job data, economists said.
The US created more jobs in low-paying sectors such as restaurants and retail trade in the month of May, clearly pointing to a weak labour market in a slow-moving economy. But better-than-expected jobs data will prompt the US Federal Reserve's plans to prune its massive global asset buys later in the year, economists say.