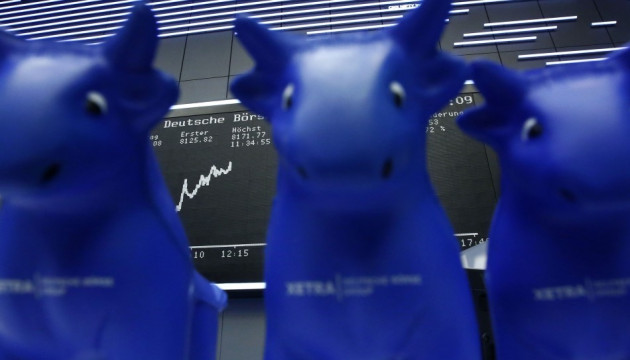 European markets opened higher on Friday following an upbeat handover from Asia where markets moved up on positive US economic data which fuelled an overnight rally on Wall Street.
The Stoxx Europe 600 opened 0.3% up at 291.40. The UK's FTSE 100 and France's CAC 40 indices opened 0.4% higher in early deals.
Germany's DAX 30 rose 0.7% while Italy's FTSE MIB was up 0.40% and Spain's IBEX 35 opened 0.43% higher.
European stocks ended lower on Thursday, with investors awaiting central bank direction on quantitative easing programmes that have boosted markets the world over.
European investors will be tracking eurozone CPI data for the month of May. The Bank of Cyprus will put out its annual earnings report during the day.
The National Bank of Poland will put out its month-on-month Polish M3 Money Supply data during the day. Money supply is the aggregate amount of monetary assets available in a country at a specific time.
Elsewhere in Europe, investors will be following Canadian Prime Minister Stephen Harper's meeting with French President François Hollande in Paris during the day.
In Italy, economy minister Fabrizio Saccomanni said on Thursday the country would begin to recover from the recession in the third quarter of 2013. Saccomanni said his government was "absolutely" on track this year to meet its deficit-to-GDP target of 2.9% following the ECB's warning that Rome's efforts to cut the deficit were in danger
In Asia, the Nikkei closed 1.94% higher at the end of day's trade after tanking over 6% on Thursday. Australia's S&P/ASX closed 2.04% higher while South Korea's Kospi ended 0.35 % higher.
Earlier in Asia, markets bounced back after hitting new 2013 lows on Thursday, boosted by a rally on Wall Street following positive US labour market and retail sales data that suggested the world's leading economy was improving, albeit at a slower pace.
On 13 June, Wall Street closed higher after posting losses for three sessions in a row, boosted by positive economic data.
Initial claims from Americans asking for unemployment benefits from the state dropped by 12,000 to a seasonally adjusted 334,000, closer to the lowest level in five years, government data showed. On the other hand, retail sales in the US rose to a seasonally adjusted 0.6% in May, higher than the market expected 0.5% increase. But a surprising fall in US import and export prices pointed to sluggish economic growth in that country.
The Dow Jones Industrial Average ended above the 15,000 level, gaining 1.21% to 15,176.08. The S&P 500 added 1.48% to 1,636.36 while the Nasdaq Composite gained 1.32% to 3,445.36.
A Wall Street Journal report about how Fed chief Ben Bernanke could use the 18 June meeting to tell investors that a potential pruning of the central bank's bond purchases would be gradual, and that it would not lead to hikes in short-term interest rates, also helped American indices on Thursday.