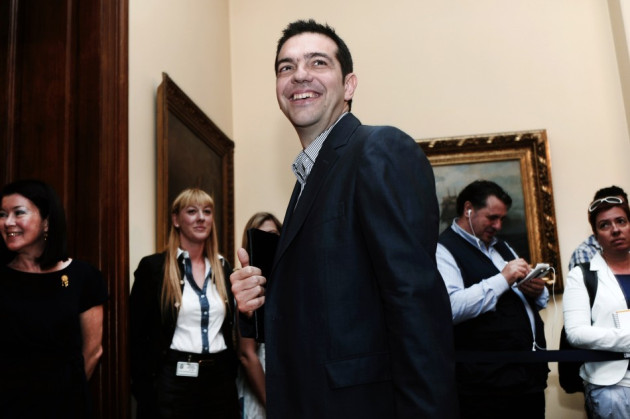 1455 GMT: One final political post before I call it a (very long) day: French President Hollande has named, as expected, Socialist Party verteran Jean-Marc Ayrault as his Prime Minister. He's led the Socialists Parliamentary Party since 1997 and is, according to the people that know these things, an expert on all things German (not to mention a former German teacher). Could come in handy at tonights Franco-German summit in Berlin!
Thanks once again for following along. Have a good evening!
Martin
1450 GMT: Syriza leader Tsipras speaking to Greek media, says 6 May vote cancelled bailout and that he has blocked any potential pro-bailout government from being formed. He lays down an early election campaign gauntlet by accusing pro-bailout parites of being loyal to Merkel and Lagarde.
1445 GMT: Greece's benchmark 10-year bonds now trading at 13.97 percent of face value, taking the yield close to 29 percent. ... and a new wrinkle emerges in the "holdhout" maturity payment saga.
Social media reports suggest Euroclear, the effective settlement agent for payment on the €432m FRN "foreign law" bond, has yet to receive payment. Retuers is reporting that Greece "will pay" the 15 May bond, although the 1500 GMT cut-off time for Euroclear payment seems to have passed.
Bloomberg is reporting that Greece has a 30-day grace period on the bond while earlier speculation by market professionals suggested Greece's Public Debt Management Office (PDMA) indicated it did not have such a window.
Thrity days from Wednesday, of course, would be Friday 15 June - two days before the presumtive date of Greece's next election.
1430 GMT: Greece's conservative leader Antonis Samaras reportedly calls for a renegotiation of the EU/IMF bailout. His party won the biggest share of the 6 May vote - although he failed within hours to gain support for a coalition government. If he's merely trying to outflank Tsipras on the Right ahead of a likely 17 June vote, that's one thing. If he really means it, well, then, that's the end of €174bn deal.
Meanwhile, Bloomberg News' always excellent Lina Yueh Tweets: "#Greece may be sued by investors hurt by debt restructuring if it repays foreign-law bonds: James Campbell, Pillsbury Winthrop Shaw Pittman"
1420 GMT: On a slightly lighter note, a UK-based travel company, DialAFlight, is getting a fair amount of grief for its suggestion that British holidaymakers cash-in their "Greek Euros" in case it is forced to leave the single currency union.
'Will other members of the Eurozone accept them? If not anyone holding Greek Euros may find themselves out of pocket" a DialAFlight blogpost (since removed) opined. Hmmmmmmmm .....
1400 GMT: "Grexit Theory" Part 2:
What might also be worth remembering is the conciliatory tone - inside the bombast of calling a Greek departure "propaganda" - struck by Jean-Claude Juncker and the Eurogroup Finance Ministers last night. Juncker said some EU/IMF conditions tied to the bailout could be softened if a Greek government pledges to respect the old ones upon its election.
Given the overwhelming (78 percent) majority of Greek citizens who wish to remain in the Euro, this might be the very (slim) lifeline Europe can provide to keep its young currency union from unravelling.
Tsipras could save face for the Greek people and claim some form of small victory in easing the bailout handcuffs currently shackling an economy that might lose 20 percent of its worth by the end of the year. Hollande could rightly claim to have seized the mantle of Franco-German duopoly in allowing a "growth *and* austerity" pact to be test-driven in the region's weak economy while Merkel could address the ire of her North Rhine-Westphalia constituents by easing her foot from the austerity pedal while further demonstrating the simple fact that nothing gets done without the Germans.
It's a stretch, but it just might work.
1350 GMT: Okay ... let's asses the next steps for Greece as it seemingly careens towards fresh elections at the very least and potential Eurozone exit at the very worst.
Greek election rules dictate a mid-June vote after the formal failure of the 6 May poll to create a government. President Karolos Papoulias's spokesperson told reporters today that a caretaker government will be named tomorrow, suggesting a step-down by the current interim Prime Minister, Lucas Papademos.
Syriza, the biggest "anti-bailout" party in Greek politics, would likley take 20.5 percent of the vote in the next election, according to a Kapa Research poll published Sunday, up from the 16.8 percent it got on 6 May. This might not be enough, however, to hold a majority of 151 in the 300-seat Parliament, even with the 50-seat bonus granted to the party with the highest proportion of the popular vote. A deal cut with the Independent Greeks, however, would likely do the trick.
Then what?
Alexis Tsipras, the Syriza leader, has vowed to "null and void" the strict austerity terms tied to the €174bn EU/IMF bailout. However, his government will rely entirely on bailout cash by the end of June and only has around €1bn in its coffers after deciding earlier today to "make whole" on a €432m 10-year floating-rate-note it sold under UK law. The European Financial Stability Facility (EFSF) held back €1bn from its €5.2bn tranche last week. If Tsipras snubs agreements the EU or the IMF, that cash may not be released and Greece will face stark financial choices based solely on its ability to raise tax revenue and (although seemingly impossible under the circumstances) raise money in the international bond markets.
This, of course, assumes Greece's EU partners will even allow it to operate in the single-currency union after 24 months of bailout negotiations, government promises, missed targets and asset price impariment.
The "Grexit" has just graduated from the theoretical to the dangerously practical.
1325 GMT: From the influential financial markets blog "ZeroHedge": "With the Greeks unable to hug it out and new elections (as per Venizelos and Kammenos) all but guaranteed, the probability that Greece will exit just went to 11 on the dial."
No major European stock market left in the green as DAX turns negative for the day, down 55.73 points, or .087 percent, as the "risk off" trade washes over asset all around the region. Athens Stock Exchange General Index down nearly 5 percent again, lead by huge declines for EFG Eurobank (-11.37 percent) Alfa Bvank (-10.15 percent) and Bank of Cyprus (-7.61 percent).
ASE pegged at two-decaed low 556.87.
1315 GMT: European shares erase gains for the year (again) post Greek election announcement: FTSE Eurofirst 300 falls to 996.03, down a full 1 percent within minutes to the lowest level of the year.
The Euro is also under pressure, trading at a near 2012 low of 1.2769 against a US dollar already bouyed by tame CPI and retail sales figures. Italy's benchmark 10-year bonds are past 6 percent and into Spanish danger territory after rising 13 basis points on the Greek announcement.
German bund future for June delievery rises sharply to session high 143.49
1305 GMT: Spokesperson for Greek President Karolos Papoulias confirms earlier report from Kammenos: Greeks will go to polls next month
Here we go - the headline the market was waiting for, but probably doesn't want, takes hold: Spain's 10-year benchmark bond yields rise 6 basis points to 6.31 percent after Greek election call. Italian 10-year debt prices fall, pushing benchmark yield up 9 basis points to 5.96 percent.
France's CAC-40 gives back gains, falls to -0.36 perent down on the day to trade at 3.046.89. DAX clinging onto slim 0.2 percent advance (6,464.21) but falling.
1300 GMT: No Deal In Greece: Panos Kammenos, leader of the Independent Greeks Party, tells media there's no deal on a caretaker government and that new elections will be held next month.
Eurofirst 300 immediately gives back all of the days gains and trades below 1,000 briefly ... Euro falls sharply below 1.2800 for fresh 4-month low. Major bourses are slipping fast.
1230 GMT: Follow-through on US Economic data: US retail sales soften in April, growing 0.1 percent and missing expectations but rising 0.2 percent when you strip away gasoline receipts.
US Inflation, meanwhile, comes in flat at 0.0 pecent in April (the third set of 0.0 percent figures for the day!!!!) as gasoline sales limp -0.3 percent in March. Year-over-year inflation in the world's biggest economy is +2.3 percent.
FTSE Eurofirst 300 turns positive, rises 0.1 percent t0 1,005
1155 GMT: Red across European equity markets, but the driver isn't from European headlines. US Chain Store sales for the week ending 12 May are looking to have contracted 0.8 percent, according to the ICSC/Goldman Sachs estimate. That tees-up a weaker official retail sales figure in about 35 minutes times.
FTSE Eurofirst 300 now down 1.14 points, or 0.11 percent, with declines across FTSE 100 (0.2 percent) and FTSE 250 (0.45 percent)
1140 GMT: Italian shares turn red after statement from Intesa Sanpaolo, it's number two lender, indicating a rise in loan loss provisions to €973m from €682m. The bank's core tier one capital ratio is marginally improved to 10.5 percent from 10.1 percent at the end of 2011 and it sees "broadly flat" operating profitability this year compared to last.
With €15bn in new capital needed - at least - by Italy's five biggest banks before the end of June, an increase in bad loan set-asides is not good news and suggest steeper deterioration for the nation's remaining lenders.
FTSE MIB now down around 20 points, or 0.14 percent, to 13,647.55. Euro STOXX Banking Sector Index turns red, too, down 0.06 percent at 85.03.
1125 GMT: Denmark's Economy Minister, Margrethe Vestager, tells Reuters the EU leaders have agreed to compromise on the draft legislation on bank capital rules. Denmark holds the rotating EU Presidency and has chaired the talks. No details as yet on composition of the agreement, but a version that reflects George Osborne's concerns regarding taxpayers' defence would be a solid win for him.
1110 GMT: While the markets break for lunch heading into the US economic data at 1230 GMT, let's recap the mornins session highlights on a country-by-contry bassis:
GREECE: We're still awaiting news from today's (likely final) attempt by President Karolos Papoulias to put together a "technocrat" caretaker administration in place to weather the worst of the coming economic turmoil. If, as expected, Syriza and the Left reject his overtures, Greece will vote again in June
Meanwhile, it's economy was said to have contracted again in the first three months of the year by 6.2 percent. On projection, this will likely take the five-year recession toll to around 20 percent by the end of 2012. Still no confirmation, however, of a payment on the €432bn 10-year floating rate note that matures today. It wasn't part of the €100bn PSI.
A EUR1.3bn treasury bill sale saw borrowing costs rise to 4.34 percent for 13-week cash, a 14 basis point advance from a similar sale on 17 April. A basis point is 0.01 percent.
The benchmark Athens General is up 0.21 percent today to 585.21.
GERMANY: A big surge in exports and a huge beat on performance will lift the spirits of Chancellor Angela Merkel as she prepares for his first State visit with the newly-minted French President. Francois Hollande, later today in Berlin. Germany's economy grew by a much better-than-expected 0.5 percent in the first quarter, reversing last year's tail-end contraction and helping to lift overall Eurozone GDP to a flat 0.2 percent monthly and yearly figure.
Investor sentiment, however, has been hit hard by French and Greek political developments, taking the well-watched ZEW Institute survey to 10.8 for the month of May. Bund futures have held firm at around the 143 mark, indicating a benchmark 10-year yield of around 1.48 percent.
The DAX is trading 34.37 points, or 0.53 percent, higher at 6,486.34.
ITALY: A steep contraction for Europe's third-largest economy in the first quarter and a wholesale downgrade of the credit ratings in its financial sector have somehow been shrugged off by Italian investors. GDP shrank a much steeper-than-expected 0.8 percent, marking the third consecutive quarter of contraction and the deepest recession in about three years.
Moody's last night downgraded the ratings of 26 of Italian banking and financial groups as part of its worldwide ratings overhaul. The country's banking lobbyist, the Italian Banking Association calls the move "irresponsible" and an act of "aggression".
The FTSE MIB is little changed on the day, adding 15 points, or 0.11 percent, to trade at 13,678.21
BRITAIN: Exports rose a sharp 5.8 percent in March, outpacing a 4.2 percent increase in imports, but the trade balance figure was little changed from February at -£8.6bn. Essentially, this figure merely confirms the bias of both the supporters (see? we're growing exports!) and the detractors (see? We can't get any traction and Germany's racing ahead!) of Chancellor George Osborne's economic strategy.
His skills will be put to the test later today, however, if Eurogroup Finance Ministers release details of the newly agreed bank capital requirements he and Prime Minister David Cameron refused to help draft. European leaders want extra breathing space for banks to allow them the flexibility to provide credit to a slack economy. Osborne wants tighter restrictions to prevent any further taxpayer-funded bank rescues.
The FTSE 100 is little changed from Monday, with only 6.59 points added to the close and trading at 5,472.48
FRANCE: Francois Hollande was sworn-in as France's first Socialist President since 1981 in a rain-soaked event at the Elysee Palace. He'll head to Berlin to meet Angela Merkel later today.
He vowed to walk the walk on his pre-election pledge to re-negotiate the European Fiscal Pact: "I will propose to my European partners a pact that ties the necessary reduction of deficit to the indispensable stimulation of the economy," he said in Paris today.
France's economy, the second-largest in Europe, narrowly avoided recession with a 0.0 percent register for first quarter GDP. Household consumption was a modest +0.2 percent while slowing exports trimmed 0.1 percent from the final GDP figure. It's anyone's guess whether this figure will hold up on second and final revisions.
The CAC-40 is trading 14.4 points, or 0.42 percent, higher at 3,072.69
0950 GMT: Very interesting piece of data released from Thomson Reuters: the Global Equity Market Share report shows value of global stock market dealing (ex-Middle East) fell 7 percent in April from March to $8.2tn. Moreover, it's down 10 percent from April 2011. More than half (53 percent) was dealt in the US with Europe second (30 percent) and Asia-Pacific third (15 percent).
Europe's figures were led by the London Stock Exchange's 22 percent market share with upstarts BATS Chi-X Europe taking 17 percent.
0945 GMT: It's oddly quiet now that the prime economic data has passed. I get the sense that Europe is now waiting for some headline-driven direction from Athens ahead of the US open. Before that, however, they'll need to navigate two fairly important pieces of US economic data: April retail sales (Street looking for modest 0.2 percent growth) and inflation figures (consensus at headline level is +0.1 percent: at Core it's +0.2 percent).
0912 GMT: German investor confidence falls sharply in May, according to the ZEW Institute survey. Headline figure dips to 10.8 from 23.4 in April and misses analysts' forecasts of a 19.0 read. ZEW says Greek, French elections contributed to dip and that economic risks have risen in the period between the April and May polls.
Broadest measure of equity performance - FTSE Eurofirst 300 - shifting in and out of positive territory following the GDP and ZEW releases. Trading right around 1,004/1,005 mark.
ZEW President Wolfgang Franz sounding suspiciously "on-message" when he claims "growth and consolidation do not contradict each other" in post statement remarks. Will make for interesting dinner conversation between Hollande and Merkel and certainly seems to defy the empirical evidence presented this morning from the myriad GDP figures.
0900 GMT: Eurozone Q1 GDP: FLAT! 0.0 percent. Absolutely no growth from either the final quarter of last year or the first quarter of 2011. German and French data clearly supported the dip back into recession but that's by no means guaranteed to remain the case once all the numbers are re-visited by the Eurostat wonks.
Greece's Q1 estimate also released and the five-year recession continues, as the economy shrinks -6.2 percent, although there is some improvement from the final three months of last year. Markit says end of year projections point to a 20 percent contraction for the Greek economy since recession began in 2007. That means the destruction of around $68bn in economic potential from a GDP once measured at $341bn, according to World Bank data.
0856 GMT: European shares turn red ahead of Eurozone GDP figure: FTSE Eurofirst 300 now off 003 percent at 1,003.95 after solid 0.5 percent gains in the first hour. DAX negative on the day, too at 6,449.55.
0841 GMT: End of an era: Nicolas Sarkozy leaves the Presidential Palace after the formal handover of power to Francois Hollande, the first Socialist leader since Francois Mitterrand.
CAC-40 up 0.19 percent on session after near full percent gain earlier in the day. European markets could turn red if we get a bad Eurozone GDP print in the next few minutes.
0840 GMT: The first salvo fired back at Moody's for last night's wholesale downgrade of the Italian financial sector comes from Italian Banking Association (ABI), which calls the move "irresponsible" and an act of "aggression".
Bond market reaction to the Moody's decision - and the poor -0.8 percent Q1 GDP figure - starting to drift in: Italian CDS around 7 basis points wider at 487 basis points (Investor pays €487,000 each year for five years to insure against default: up €50,000 in the last 7 days) while benchmark 10-year bond yield rises to 5.75 percent.
0830 GMT: UK trade data hitting the tape: March global goods trade balance -8.564bn: Exports rose +5.8 percent (£26.4bn) while imports rose +4.2 percent (£36.9bn). Solid export growth but not enough to narrow balance markedly from February's revised -8.59bn.
Figures do add fuel to the debate as to whether Britain's limp economic growth is more tied to austerity or the eurozone crisis.
Meanwhile:
Markets are starting to stall a bit after that grim GDP read from Italy. We're also seeing some speculation on social media that investors have yet to receive payement on the €432 Greek FRN, despite several government spokespeople telling media outlets otherwise. We'll keep abreast of that and post what we can find.
FTSE Eurofirst is now +0.33 percent on the day at 1,007.56, but about 1.5 points from this morning's session high.
0810 GMT: Keeping one eye on the news and the other on social media as Twitter and other formats increasingly provide insight and clarity far beyond traditional mainstream media reporting. London & Capital Asset Managment's Steve Collins, the group's Global Head of Dealing, Tweets:
"We now have a three speed Europe. Fast. stopped and going backwards, after all GDPs this morning"
0800 GMT: We'll stay with Italy for the moment as GDP slips further than expected 0.8 percent in Q1, taking the year-on-year decline to 1.3 percent. Q4 reading of a 0.7 percent contraction was unchanged so we're looking at a deeper than expected recession in Europe's third-largest economy - and the world's second biggest bond market outside of the United States.
Data provider Markit Tweets: "That awful Italian #GDP number could be the figure to put EZ into tech. recession. We'll know in about an hour.
0755 GMT: Italy's FTSE MIB holding on to a strong 1.1 percent bounce this morning despite last night's move by Moody's Investors Service to downgrade 26 of its banks. Italy's five-biggest lenders (UniCredit, Intesa Sanpaolo, Unione di Banche Italiane, Banco Popolare and Banca Monte Dei Paschi) already need an extra €15bn in capital by next month in order to meet new solvency rules set by the European Banking Authority.
The dowgrades are part of Moody's global overhaul of its financial sector ratings system in light of both the European debt crisis and the overall slowing of the gobal economy.
"The ratings for Italian banks are now amongst the lowest within advanced European countries, reflecting these banks' susceptibility to the adverse operating environments in Italy and Europe," said Moody's.
The Euro Stoxx Banking Sector Index is up 0.72 percent on the session to 85.73. Italy's FTSE MIB is up 1.11 percent to 13,809.03
0740 GMT: Greece will pay the €432m maturity on its 10-year floating rate note due today, a government offical has told Retuers. The bonds were issued under UK law and were not part of the €110bn PSI that Greece had agreed with lenders last year. There had been some speculation that Geece may decide to default on this security for fear of angering cash-stricken taxpayers and European lenders who had taken huge losses on Greek-law-issued debt.
0737 GMT: The Dutch economy breaks Tuesday's Triple-A growth streak and contracts 0.2 percent in the first quarter, taking it back into recession. Huge embarrassment for the caretaker government of Mark Rutte, which had been the heretofore Second Lieutenant to Angela Merkel's Austerity General.
The 1.1 percent year on year contraction will further complicate Rutte's plans to engender €9bn in spending cuts to bring his nation's deficit into line with the Fiscal Pact objectives he's championed.
0730 GMT: An early tale-of-the tape has investors snapping up cheap stocks at the bottom end of yesterday's dips. German data clearly supports the cautious mood, but the recession miss in France and the growth around Triple-A rated Europe (better-than-expected numbers in Austria and Finland) also provides a lift.
FTSE Eurofirst 300 adds 4.6 points to trade 0.44 percent into the green. Modest gains across the major European bourses, as well, including a near full percent pop in France with the CAC-40 up 0.97 percent to 3,086.28.
0720 GMT: Barclays economist make the interesting side-note in their German GDP breakdown (which overshot estimates of 0.1 percent and grew by 0.5 percent in the first quarter):
"...the strong showing by the German economy clearly raises some doubt about claims by British officials that the UK recession is predominantly caused by the euro area crisis instead of austerity measures in the UK."
0710 GMT: Good Morning! We're back on the tiller for another day of rough seas around Europe as investors parse through some telling economic data and await the results of crucial meetings in Berlin and Athens.
Europe's equity markets are opening with a dash of quiet optimism: Britain's FTSE 100 posts a 0.2 percent gain while the broader European reading, the FTSE Eurofirst 300, posts a 0.7 percent gain in the opening minutes. Germany's DAX is up 0.7 percent at first print, as well.
Let's first recap the trading session in Asia overnight and some breaking news this morning. Equities fell acorss the region, with the MSCI (ex-Japan) index slumping more than 1.1 percent before bouncing from the session lows. Commodity prices are stuck in a rut last seen 14 years ago, with the S&P GSCI, a basket tracker of 23 raw materials prices, down 7.4 percent so far this month after losses in April and March.
Conspiracy theorists will be alive with speculation this morning over the motivations of Germany's political leaders throughout the sovereign debt crisis as we discover its economy, the biggest in Europe, grew by a surprising 0.5 percent in the first quarter of this year. Not only is that a 0.7 percent swing from the final three months of 2011, but it's around 5 times stronger than analysts had forecast. And, it's largely built on the back of a significant advance in exports, which, of course, are made more globally competitive as the Euro weakens.
France avoided recession - barely - but posting 0.0 percent GDP (growth? bit of a tautology there). Interesting contrast in the French and German figures, in that exports *slowed* in France, trimming 0.1 percent from GDP, while they soared in Germany. Household consumption in France grew a modest 0.2 percent. The contrast is an excellent reminder as to why Francois Hollande, France's newly-elected President, is likely to push for "end-demand" stimulus during his inaugural meeting with Angela Merkel in Berlin today. France needs to generate more domestic consumption.
In Athens, President Karolos Papoulias is expected to try and ask Greece's party political leaders to allow a select group of "technocrats" to run the country as it seeks to avoid default and economic catastrophe. In keeping with the political mood, media reports suggest Syriza and the sundry leftist parties will reject this idea and push for June elections.
The single currency, for it's part, is holding "firm" (at least in a two-day sample size) at 1.2850 and could find favour if traders get a bigger surprise from Eurozone GDP at 0900 GMT.