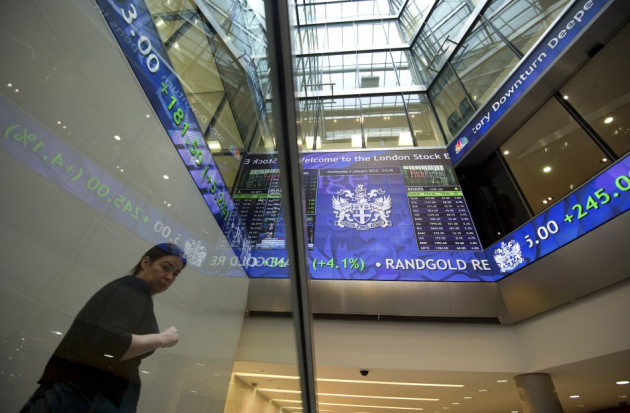 European markets opened lower as investors were guarded ahead of the release of a raft of economic data.
The pan-European FTSEurofirst 300 lost 0.5% to trade at 1,240.80 in early deals. The UK's FTSE 100 fell 0.5%, France's CAC 40 index lost 0.8%, while Germany's DAX retreated 0.6%.
Spain's IBEX and Italy's FTSE MIB were down 0.6% and 0.9% respectively.
The action now shifts to Berlin, where investors will be tracking German monthly and yearly consumer price index data. Europe's biggest economy will also put out unemployment numbers early in the day.
In France, a government survey showed that consumer confidence had dropped to its lowest since July 2008. France went into recession earlier this month, for the second time in four years.
The eurozone is also suffering its longest recession since records began in 1995, after the economy contracted for the sixth consecutive quarter.
In the UK, the Confederation of British Industry (CBI) will release its Distributive Trade Survey reading today, which measures the health of the retail sector and serves as a top indicator of consumer spending. Markets expect a reading of 3.
Britain's economy grew 0.1% in the first quarter of 2013 compared with the previous quarter, avoiding a triple dip recession.
European investors will also be tracking Swedish and Polish quarterly GDP data, alongside the Hungarian quarterly unemployment rate.
The Organization for Economic Co-operation and Development (OECD) will put out its latest economic outlook during the day.
In Brussels, the European Commission will release a report regarding countries' debt-cutting policies and specific recommendations later in the day. Markets anticipate the report will confirm that France, Spain and Slovenia have surpassed eurozone deficit targets.
In Asia, Japan's Nikkei closed 0.1% higher.
Earlier, most Asian markets rose in opening trade supported by an overnight rally on Wall Street after data showed that the US housing market has revived and that consumer confidence in the world's largest economy had risen in May.
US home sales have jumped 9.7% over the last 12 months, according to the National Association of Realtors.
On Wall Street, the Dow ended at a record high on 28 May, gaining 106.29 points at 15,409.39. The S&P 500 index inched up 10.46 points to 1,660.06, while the Nasdaq Composite moved up 29.74 points to 3,488.89.
But a stronger housing market in the US is expected to fuel the Federal Reserve's plans to roll back its asset buys. The Fed's bond-buying programme has helped stimulate Asian equities for a while now.