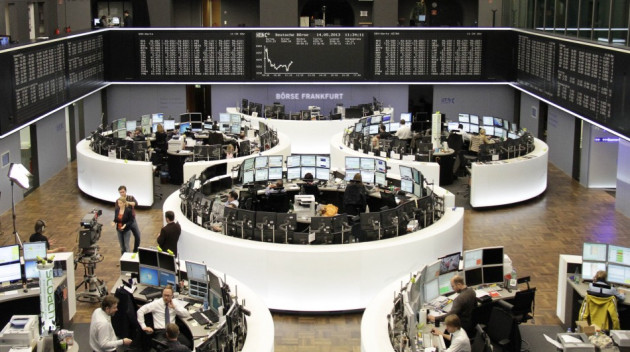 European shares opened lower in the early trading as investors eagerly await a Fed statement on the future of its bond-buying programme.
The pan-European FTSEurofirst 300 retreated 0.1% in early deals. The UK's FTSE 100 fell 0.1%, while France's CAC 40 and Germany's DAX fell 0.3% and 0.1% respectively.
Spain's IBEX and Italy's FTSE MIB remain little changed.
Companies reporting earnings include the UK-based publisher Bloomsbury, telecoms company Vodafone, luxury merchandise retailer Burberry, multi-national retailer Marks & Spencer and Irish convenience food manufacturer Greencore.
Investors in the UK will also be closely following inflation data for April.
Earlier, a report from Ernst & Young predicted that British households would continue to have tight budgets as high inflation is expected to linger for a while. Government data released last week showed that wages hardly grew in the year to March, at 0.4%, while consumer price inflation touched 2.8%.
Investors will also be tracking producer price data from the UK, apart from Sweden's unemployment rate.
The Swiss National Bank Chairman Thomas Jordan is due to give some hints on future Swiss monetary policy and interest rate decisions in a speech scheduled for today. Investors will be also be watching incoming Bank of England's Governor Mark Carney's speech.
In Germany, the government is drafting plans to make changes to EU legislation, according to a report in the Financial Times. Both the UK and Germany support changes to legislation such as the law mandating a 48-hour week across the EU. But Germany, which favors a single market, will prevent a repatriation of powers to the UK, the report said.
EU lawmakers also voted to introduce a law that protects smaller bank deposits, under €100,000, when rescuing banks, Reuters reported on 20 May.
Earlier in Asia, most markets opened lower after Wall Street's record-setting rally was halted by investors who traded cautiously on the back of uncertainty over the US monetary policy.
Investors across Asia held back, ahead of US Federal Reserve Chairman Ben Bernanke's testimony to the Congress, on 22 May. His testimony could provide hints on the timeline of the proposed roll back of the Fed's bond-buying program, which has been a critical source of stimulation for global stocks for several months.
Wall Street ended flat on 20 May after both the Dow and the S&P 500 indices posted record highs during intraday trade.