European Markets Edge Lower on Eurozone Concerns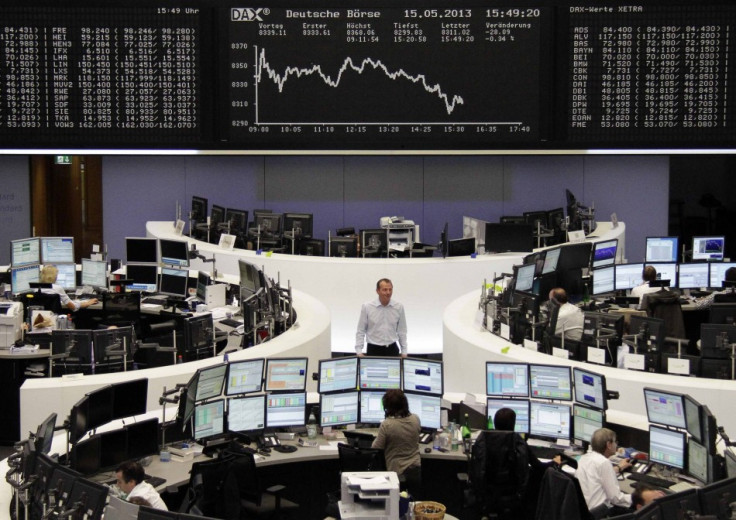 European markets opened lower after data from the previous day showed the eurozone economy had shrunk for the sixth straight quarter at the beginning of the year.
The Stoxx Europe 600 index fell 0.1% to 307.7 in early deals. The UK's FTSE100 remain little changed, while France's CAC 40 lost 0.1%. Germany's DAX slid 0.2%.
The UK remains divided on the issue of an EU exit after a third of all Conservative lawmakers voted against Prime Minister David Cameron's plans to offer a referendum on Britain's membership in the union.
In France, President Francois Hollande will meet journalists later in the day. Unemployment peaked in April and the country's economy has slid into recession. The government will release quarterly non-farm job creation data today.
Companies reporting earnings during the day include Swiss firms Zurich Insurance and luxury goods maker Richemont, the UK's second largest insurer Aviva, copper miner Antofagasta and coal miner Bumi.
Investors in Europe will be tracking a raft of data from the US, including initial and continuing jobless claims, monthly and annual CPI data, the Philadelphia Federal Reserve Manufacturing Index, housing starts and building permits. They will also be closely following annual eurozone CPI data.
In the US, the official industrial production index and the NY Empire State survey showed weakness in manufacturing activity. The NAHB housing index, however, showed a rise in single-family home sales.
The UK-based electricity and gas utility National Grid will put out final earnings. Realty firm Bovis Homes Group reports trade figures while electronics retailer Dixons and oil firm Premier Oil will both release trading statements.
Earlier in the day, most Asian markets shed their early gains, as weak earnings from the banking sector disappointed investors in Japan despite better-than-expected economic growth in the first three months of the year.
Japanese banking stocks pulled the Nikkei down despite stronger first quarter GDP data. Japan's economy grew 0.9%, beating expectations of a 0.7% growth rate. This compares with a 0.3% growth recorded in the previous quarter. Nikkei ended the day's trading 0.4% down at 15,037.2.
On Wall Street, the Dow Jones Industrial Average ended at a record high on the previous trading session, as investors were more confident that central banks would continue with their stimulative polices after weak data emerged from the eurozone.
© Copyright IBTimes 2023. All rights reserved.