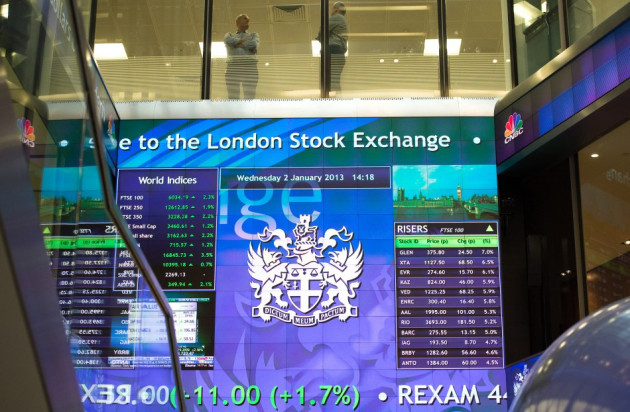 European equities followed their Asian peers and opened lower, but inched up immediately thereafter, as investors sold stocks in Asia and on Wall Street on growing concerns about the US Federal Reserve's potential plans to taper its massive global asset buys, a key stimulator of markets worldwide
The Stoxx Europe 600 index opened 0.1% lower at 302.35, the UK's FTSE 100 index was down 0.2% at 6,616.36, France's CAC 40 index shed 0.2% in opening trade to 3,966.66 and Germany's DAX was down 0.3% at 8,318.05.
Spain's IBEX was down 0.9% in early trade at 8434.40 while Italy's FTSE MIB inched up 0.17% to 17265.81.

The action shifts to the US which will publish quarterly GDP data as well as initial jobless claims figures during the day. Stronger home sales data and higher confidence among American consumers indicated the world's largest economy is recovering.
In Europe, German Chancellor Angela Merkel will meet French President Francois Hollande this week to discuss proposals aimed at improving industrial activity and strengthening the management of the 17-member eurozone.
In the UK, the month-on-month nationwide housing price index showed housing prices remained unchanged. The UK's Severn Trent, Kingfisher, sweetener maker Tate and Lyle will all put out trading updates during the day.
Elsewhere in Europe, Swiss GDP numbers showed the economy beat predictions and expanded 0.6% quarter-on quarter and 1.1% year-on-year. The government allowed Swiss banks to bypass secrecy laws, reveal client names and make distinct settlements with the US, resolving a dispute over tax evasion in the world's top economy.
Spain's economy contracted 0.5% quarter-on-quarter, in line with forecasts. Denmark reported that 4.5% of its workforce was unemployed in April, a slight increase from 4.4% in March.
Norway will put out monthly core retail sales data during the day. Investors will also be tracking Italy's 10-year BTP auction on Thursday.
The Paris-based Organisation for Economic Co-operation and Development (OECD), in its latest economic outlook, said that the recession-hit eurozone would fall further behind a generally improving US and a rebounding Japan this year.
In Asia, Japan's Nikkei closed 5.15% lower, after closing 0.1% higher on 29 May. Australia's S&P/ASX ended 0.9% lower at the end of day's trade, while South Korea's Kospi closed 0.05% lower
Earlier in Asia, the markets opened lower after Wall Street indices retreated as investors tried to figure out the extent of damage the US Federal Reserve's potential rollback of global asset buys would have on the markets.
On Wall Street, Fed fears forced the Dow and the S&P 500 to shed 0.7% at the end of day's trade on 29 May, while the Nasdaq Composite was down 0.61%.