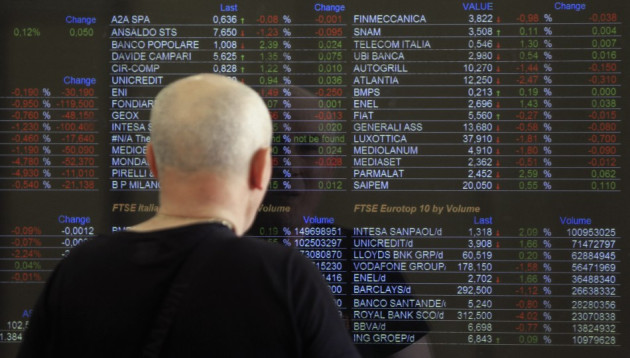 European markets opened lower on Thursday following a downbeat handover from Asia, as quantitative easing concerns forced Asian equities to new 2013 lows.
The Stoxx Europe 600 opened 0.7% lower at 288.72, the UK FTSE 100 1.2% lower and France's CAC 40 1.3% lower in early deals.
Germany's DAX 30 opened 1.4% lower while Italy's FTSE MIB was down 1.6% in early trade.
Spain's IBEX inched up 0.43% in early trade.
Most European markets closed lower on Wednesday, pulled down by striking unions in Greece and central bank stimulus concerns, despite the release of Eurostat data that showed April's industrial output grew 0.4% in the eurozone following a 0.9% jump in March 2013.
Investors in the UK will be following the Bank of England's quarterly report, and will have noted that the Royal Bank of Scotland (RBS) is expected to slash 2,000 jobs at its investment banking arm, after CEO Stephen Hester announced his resignation.
RBS Group's stock was falling fast on Thursday morning, trading 7.77% lower at 8:21am in London.
The RBS job cuts will be spread worldwide as the 82% publicly-owned bank is looking to restructure its investment banking business ahead of its reprivatisation, expected to take place before the UK's parliamentary elections in 2015.
Research published by the Institute for Fiscal Studies (IFS) found that bigger firms are more likely to cut labour costs by laying off staff whereas smaller firms, who make up the bulk of the economy, are more inclined to slash wages instead.
Poland will put out monthly and annual CPI data. The ECB will release its monthly report during the day which provides a detailed analysis of current and future economic conditions from the bank's perspective.
In Turkey, Prime Minister Recep Tayyip Erdogan is growing impatient and has reportedly asked his interior ministry to put an end to the protests within 24 hours. The government will consider holding a referendum on the redevelopment of Gezi Park, the cause of the protests.
In Germany, a constitutional court continued hearing the Outright Monetary Transactions (OMT) case. The Bundesbank and the ECB are arguing on opposite sides and the latter warned against any moves that aim to change its mandate.
Elsewhere in Europe, Greek Prime Minister Antonis Samaras said he would reform state broadcaster ERT, after his government shut down the public broadcaster to cut costs. All 2,700 employees were sacked and a smaller team would man the broadcasting department in the future, the government said.
Companies reporting earnings on Thursday include UK-based design and engineering consultancy WS Atkins, leather goods maker Mulberry and French aerospace equipment maker Zodiac Aerospace
In Asia, the Nikkei tanked 6.35% at the end of day's trade after closing 0.21% lower on Wednesday. Australia's S&P/ASX closed 0.61% lower while South Korea's Kospi ended 1.42% lower.
Earlier in Asia, the Japanese Nikkei share average tanked as Asian equities hit new 2013 lows, following a downbeat handover from Wall Street, pulled down by uncertainty over the US Federal Reserve's quantitative easing (QE) programme.
Australia's jobless rate unexpectedly dipped in May as businesses increased hiring especially for part-time jobs. The Australian Bureau of Statistics (ABS) said the seasonally-adjusted unemployment rate declined to 5.5% in May from the revised 5.6% in April. Analysts had expected the unemployment rate to remain unchanged at 5.6%.
On 12 June, Wall Street indices ended lower with the Dow Jones Industrial Average closing below the 15,000 level, logging its first three-day losing streak in 2013. The Dow dropped 126.79 points ending at 14,995.23. The S&P 500 shed 13.61 points closing at 1,612.52 while the Nasdaq lost 36.52 points closing at 3,400.43.
The US dollar dropped to a 10-week low against the Japanese yen as QE concerns pulled down Wall Street indices, following the Bank of Japan's reluctance to check the volatile Japanese bond market.
The Federal Reserve will meet on 18 June and the meeting could clear the air as far as the pace of its bond-buying programme is concerned.