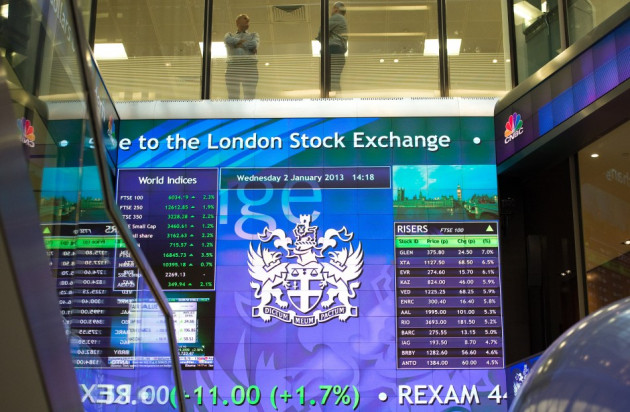 European markets opened lower ahead of the release of a raft of economic data from across the EU.
The Stoxx Europe 600 index shed 0.5% to 297.97. The UK FTSE 100 index opened 0.7% lower at 6,510.86.
Germany's DAX 30 index opened 0.7% lower to 8,239.75, while France's CAC 40 index was down 0.6% to 3,901.26 .
All markets inched up then onwards.
Italy's FTSE MIB was up 0.45% to 17135.48 in early deals, while Spain's IBEX 35 added 0.95% to 8363 in early trade.
European investors will be tracking services PMI data coming in from the UK, Germany, France, Italy and Spain. Hungary and the Czech Republic will put out annual retail sales data today.
The Polish interest rate decision could be out during the day. Eurostat will put out monthly retail sales data, quarterly growth figures as well as services PMI data during the day.
In the US, markets will be tracking the Federal Reserve's Beige Book, ADP nonfarm employment change, quarterly nonfarm productivity data, unit labour costs and the ISM Non-Manufacturing Index. Canada will put out monthly building permits data later in the day.
Investors will also be tracking developments in Turkey, after US Vice President Joe Biden cautioned the NATO ally to respect political dissent.
Anti-government protestors are trying to stop the government from constructing a shopping mall on grounds that house a park, in central Istanbul. Civil unrest forced the stock market to shed 10.5% on 3 June.
Turkey's deputy prime minister Bulent Arinc has apologized to environment protestors. "The excessive violence that was used in the first instance against those who were behaving with respect for the environment is wrong and unfair," Arinc said at a news conference in the capital Ankara. "I apologise to those citizens."
The country's currency, the Lira, was trading 0.27% higher at 1.8819 at 8:02am London time.
Elsewhere in Europe, Deutsche Bank's co-CEO Anshu Jain told CNBC he was 'cautiously optimistic about a global recovery, but worried about regulatory balkanization.'
Jain opined that banking industry needed regulatory reform that is 'cohesive and well balanced' and the Basel 3 norms could be the global standard.
In the UK, retail giant Tesco will put out an interim management statement Wednesday morning.
In Asia, the Nikkei tanked 3.3%. Prime Minister Shinzo Abe's policy speech, where he promised to raise incomes by 3% every year for a decade and create special economic zones that attract foreign investment, failed to boost sentiments in the world's third largest economy.
South Korea's Kospi ended 1.25% lower on 5 June.
Australia's S&P/ASX ended 1.2% lower at the end of day's trade after the country reported lower-than-expected growth figures.
Australia's gross domestic product inched up 0.6% during the January-March quarter. On a seasonally adjusted basis, GDP was 2.5% higher than a year ago. The country is suffering from a lower demand for its commodities as it struggles to move away from mining-led growth.
Earlier in Asia, equities dropped to their lowest level in 2013, on Wednesday, after Wall Street posted losses on concerns the US Federal Reserve could prune its bond-buying program.
The US Federal Reserve's massive asset buys have served as a major stimulus for markets the world over for a while now. Investors are worried that a potential roll back of the same would suck out funds from global markets.
The MSCI's broadest index of Asia-Pacific shares outside Japan shed 0.8% to hit a six-month low.
On 4 June, Wall Street ended lower after investors sold growth-focused stocks. The Dow fell 0.5% to 15,177.54. The S&P 500 index shed 0.55% to 1,631.38 at the end of day, but has added 14.4% this year. The Nasdaq Composite index ended 0.58% lower at 3,445.26.