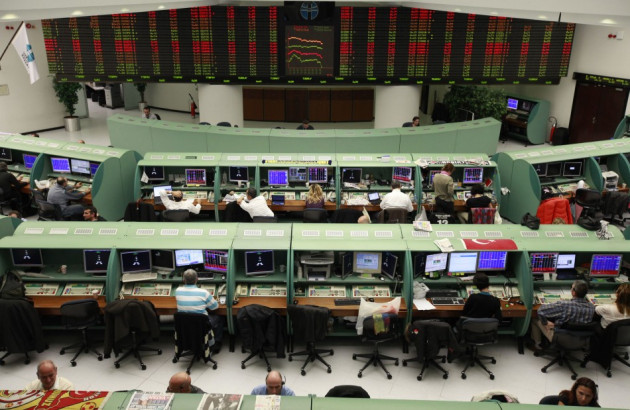 European markets opened higher after an upbeat handover from Asia. The Stoxx Europe 600 gained 0.68% or 2.02 points to 300.61. Britain's FTSE 100 gained 0.6% in early deals, while France's CAC 40 was up 0.8%.
Germany's DAX inched up 0.9%, Italy's FTSE MIB moved up UP 0.8% while Spain's IBEX added 0.7% in opening trade.
European investors will be closely watching developments in Turkey, where anti-government protests and civil unrest forced the stock market to shed 10.5% on 3 June.
The country's currency, the Lira, dropped to 1.8830 against the US dollar on Monday. It has since gained 0.27%, trading at 1.8878 at 7:49am London time.
Elsewhere in Europe, data from Italy showed its budget deficit for May 2013 more than doubled to about €8.8bn, from a deficit of €4.3bn a year ago. But a Markit/ADACI survey showed Italy's manufacturing PMI climbed to a four-month high of 47.3 from April's mark of 45.5.
The EU will propose the creation of a new authority with powers to shut down ailing eurozone banks, backed by funds to do so, the Wall Street Journal reported. Germany has maintained the move would require changes to EU treaties.
Companies reporting earnings during the day include Dutch multinational retailer Ahold.
In Asia, the Nikkei gained 2.05% while South Korea's Kospi closed flat at 1989.51. The Shanghai Composite shed 1.17%.
Australia's S&P/ASX ended 0.26% higher at the end of day's trade. The Reserve Bank of Australia announced its interest rate decision and has kept the key rate unchanged at 2.75%, in line with analyst expectations.
Earlier in Asia, markets were mixed despite a rally on Wall Street, as investors were worried about China's economic slowdown.
American equities rose, after data showed that factory activity in the US contracted in May, on expectations the Federal Reserve could continue with its stimulus package. But Asian investors were largely bearish on concerns about the slowdown in China even after positive sentiments emerged from Wall Street.
On 3 June, the Dow shot up 138.5 points, to end at 15,254. The S&P 500 added 9.7 points, to close at 1,640, while the Nasdaq, rose 9.5 points, to finish at 3,465.
The Institute for Supply Management said US manufacturing activity contracted in May, falling to its lowest level since June 2009. The news pulled down the US dollar and boosted American stocks. Wall Street gained on expectations that weak factory activity could force the Fed to push back its plans to stop buying global bonds, a key market stimulator the world over for a while now.