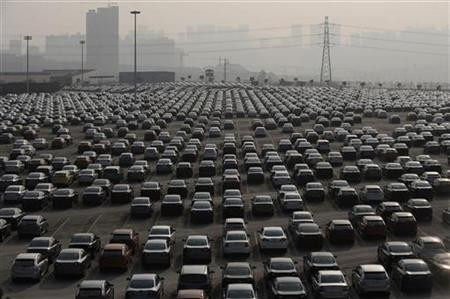 New car registrations in the UK have recorded an 11 percent rise in November boosted by private buying as against a 10 percent drop recorded for Europe, lifting it to the position of the second biggest auto market in the region overtaking France.
Car sales in Europe have registered a 10 percent drop in November which brought new car registrations to a 19-year low in the eurozone as unemployment in Germany, the region's biggest auto market, deterred consumers from buying vehicles from PSA Peugeot Citroen and Renault.
In November, both Peugeot and Renault recorded a double digit decline in sales - 16 percent and 27 percent respectively - as unemployment is on the rise for the eighth consecutive month in Germany.
New vehicle registrations dropped to 965,918 in November as against 1.07 million a year earlier in the region that includes 27 European Union (EU) countries plus Switzerland, Norway and Iceland, reveals data from the European Automobile Manufacturers' Association or ACEA.
According to the Brussels-based agency, eleven-month sales fell to 11.3 million vehicles, a 7.2 percent drop registering the lowest figure since 1993. The EU recorded a 7.6 percent fall for the same period.
Analysts are not optimistic about the European auto sector even in 2013.
"We see little reason to believe that EU volumes will grow next year, which means that the spread between EU-focused and export-oriented original equipment manufacturers will only continue to widen," Erich Hauser, a London-based analyst at Credit Suisse, told Bloomberg.
A major drop in sales was recorded in Europe's four biggest auto markets. New registrations dropped 3.5 percent in Germany whereas France recorded a 19 percent drop in deliveries. Italy and Spain recorded a fall of 20 percent each.