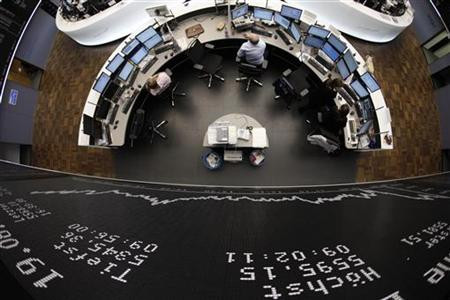 European stocks slipped in the early minutes of trade as US debt ceiling and overbuying concerns set in after markets hit multi-month peaks in the previous session.
The FTSEurofirst 300 index that tracks top European stocks advanced 0.3 percent to 1,160.27 while UK's FTSE 100 remained little changed. France's CAC-40 fell 0.4 percent while Italy's FTSE MIB was down 0.3 percent. In Spain, IBEX droped 0.9 percent. Germany's DAX slipped 0.2 percent.
The dollar surged to a three-week peak against the Swiss franc, trading at 0.9214 francs, while the single currency eased against the greenback to about $1.31.
Most Asian markets had earlier added to the previous day's "fiscal cliff" gains on the upbeat US and Asian economic outlook.
MSCI's largest gauge of stocks excluding Japan gained 2.14 percent. Australia's S&P/ASX ended 0.74 percent or 34.80 points higher to 4740.70 while Hong Kong's Hang Seng gained 0.8 percent to 23330.10 towards close. South Korea's benchmark index slipped 0.58 percent to 2019.41. Markets in mainland China and Japan remain closed for a holiday.
Traders had begun the year on a positive note as US lawmakers managed to arrive at a consensus on the budget talks, avoiding a potential fiscal crisis that could have had global repercussions. The White House informed that President Barack Obama has signed the deal early in the day.
But despite the momentary cheer, traders remained wary as further uncertainty lies ahead on the debt ceiling and spending cuts decisions. Analysts warn that the world's largest economy's financial and credit outlook face potential risk given the volatile conditions.
"With little prospect of any meaningful action to address the medium-term budget problems, we suspect that the US will suffer further credit rating downgrades this year," said Paul Ashworth from Capital Economics in a note.
However, figures released by the US Institute of Supply Management (ISM) showed that the country's manufacturing picked up to 50.7 in December from 49.5 in the previous month. A reading above 50 indicates growth in the sector.
Across the Atlantic, German unemployment figures are set for release later in the day and analysts expect the number of jobless to have increased in December. But the markets could shrug this off as German consumer sentiments appear to remain strong.
According to a report by Financial Times citing a survey by Ernst & Young, Germans remain optimistic on the domestic labour market despite the eurozone concerns. Separate official report had showed that the number of people employed in the country hit a record high for the sixth straight year in 2012.
Asian economic prospects were boosted despite global economic concerns after nations across the region reported healthier December indicators.
Official data from China's statistics bureau earlier in the day showed that the country's service sector gauge rose to 56.1 in December from 55.6 in November. The improved data, along with the positive manufacturing figures released early this week has reinstated the world's second largest economy's growth forecasts.
Headline manufacturing figures from India, South Korea and Taiwan also improved month-on-month while Australia remained little changed.