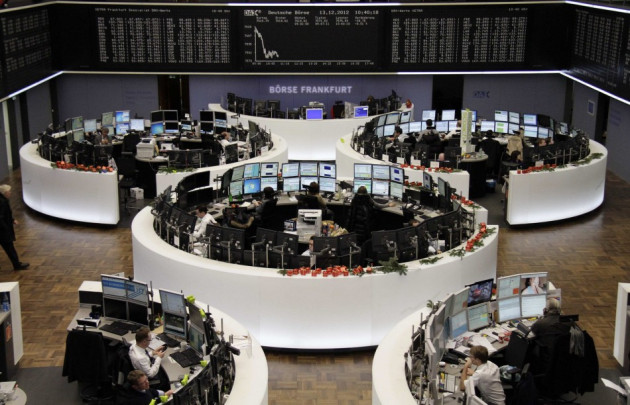 European stocks gained in the opening minutes of trade looking all set to hit multi-month peak on strong Chinese manufacturing figures and hopes of a 'fiscal cliff' deal that boosted hopes on global economy.
The pan-European FTSEurofirst 300 share index opened little changed at 1,134.56, looking back on track to the 18-month high touched earlier, while Britain's FTSE 100 gained 0.1 percent. Italy's FTSE MIB and Spain's Ibex were up 0.1 percent each.
In Germany, the DAX rose 0.5 percent while France's CAC-40 opened little changed.
A preliminary reading of Purchasing Managers Index (PMI) from HSBC showed that China's manufacturing jumped to a 14-month high in December, gaining to 50.9 from 50.5 in November. A reading above 50 indicates expansion in the sector.
Asian markets had ended mixed with Chinese markets rallying on the improved data and Japanese stocks slipping after a closely-watched survey showed weak business sentiments in the country.
The Shanghai Composite Index climbed 4.32 percent to 2150.63 while Hong Kong's Hang Seng rose 0.70 percent to 22603.58 towards close. Japan's benchmark Nikkei average slipped 0.05 percent to 9737.56. South Korea's KOSPI fell 0.39 percent to 1995.04.
The improved manufacturing data has boosted hopes of the Chinese economy expanding to meet target levels in the final quarter from the weak levels of the third quarter. Growth in the world's second largest economy had slowed to 7.4 percent from July to September, but has since shown improvement, especially in industrial output and retail sales.
Japanese markets dipped early in the day after Bank of Japan's (BOJ) Tankan survey showed that business confidence among manufacturers in the country dipped to the lowest rate in almost three years. The Yen fell to about nine-month low against the Dollar on hopes of further monetary easing measures from BOJ.
The central bank is set to meet for a policy review next week. Although BOJ had earlier expressed its concerns on aggressive monetary easing measures, analysts expect the lender to take up more stimulus steps considering the weak economy.
But before that, Japan will head to polls on 16 December. Traders will keep a close watch on this as the pro-stimulus Liberal Democratic Party is widely expected to come to power next.
The European Union (EU) summit is set to conclude later in the day but is not expected to have further impact on equity markets after the banking supervisor decision and Greek bailout reports.
The outcome of the 'fiscal cliff' talks in the US continued to concern investors after a short relief from the Federal Reserve's stimulus measures. President Barack Obama and House of Representatives Speaker John Boehner have held face-to-face discussions in a bid to break the deadlock on the matter.
"Traders are now starting to think the unthinkable, that negotiations might break down before the festive period starts and we are left with a political stalemate," said Jason Hughes, Head of Premium Client Management at IG Markets.
"This sentiment unfortunately popped the bubble global markets had enjoyed from the Fed's QE4 announcement the previous night".